Mac Wayne Speaks
Captain
DET A-102 (TIEN PHUOC), C CO, 5TH SF GRP, USARV
Army of the United States
12 July 1938 - 27 March 1968
Alexander City, Alabama
Panel 46E Line 050
The database page for Mac Wayne Speaks
21 Jan 2005

HEADQUARTERS
UNITED STATES ARMY VIETNAM
APO San Francisco 96375

AWARD OF THE SILVER STAR

1. TC 320. The following AWARD is announced posthumously.

MAC WAYNE SPEAKS O2307556 CAPTAIN INFANTRY
Company C, 5th Special Forces Group, 1st Special Forces
| | |
| --- | --- |
| Awarded: | Silver Star |
| Date action: | 27 March 1968 |
| Theater: | Republic of Vietnam |
| Reason: | For gallantry in action while engaged in military operations involving conflict with an armed hostile force in the Republic of Vietnam: Captain Speaks distinguished himself by exceptionally valorous actions on 27 March 1968 as Special Forces advisor to two Vietnamese platoon during an enemy attack on their outpost near Tien Phuoc. During the early morning hours, the camp was subjected to heavy enemy mortar fire followed by a furious ground assault by a large Viet Cong forces armed with automatic weapons, rockets, and grenades. Braving a savage hail of bullets and flying shrapnel, Captain Speaks quickly adjusted illumination flares to expose the advancing insurgents. He then raced from position to position, shouting words of encouragement to his defending troops and placing fierce fire on the enemy. Moving to the outpost's mortar emplacement, Captain Speaks directed intense counter-mortar fire on the attackers until he was seriously wounded by enemy fire. Captain Speaks' gallantry in action was in keeping with the highest traditions of military service and reflect great credit upon himself, his unit, and the United States Army. |
| Authority: | By direction of the President under the provisions of the Act of Congress, approved 9 July 1918. |
Captain Speaks was survived by his wife, Mrs. Annie L. Speaks, and three children, Wendy, Kenneth and Hal, and his parents Mr. and Mrs. Richard T. Speaks of Alexnder City, AL.
Captain Speaks was laid to rest in Hillview Memorial Park in Alexander City, Alabama, on 7 April 1968. Full military honors were rendered by personnel of the 20th SF Group (ABN). Captain Speaks' escort, WO1 Lucius Stanaland, stated that approximately 300 military personnel participated in the funeral service.
In honor of his service and sacrifice the Alabama Army National Guard changed the name of the Guard Armory in Alexander City to Fort Mac Wayne Speaks. The painting shown above has hung in the Armory's lobby for many years.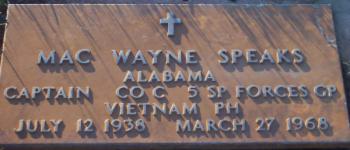 ---
With all respect
Jim Schueckler, former CW2, US Army
Ken Davis, Commander, United States Navy (Ret)
Last updated 08/10/2009