Obituary - Eggers Funeral Home, Rosholt South Dakota, used with permission:
Captain Darrell J. Spinler died June 21, 1967
(June 16, 1938 - June 18, 2011)
Funeral services for U.S. Air Force Captain Darrell John Spinler were Saturday, June 18, 2011, at 10:30 a.m. at the United Methodist Presbyterian Church in Browns Valley with Chaplain Major Rob Sugg and Rev. Anna Williamson officiating. Music was provided by organist Janet LeClair.

Burial was in the Valley View Cemetery, Browns Valley. Military honors were provided by the 319th FSS Honor Guard, Grand Forks ND Air Force Base, the William Krensing American Legion Post 58 of Browns Valley, and the Patriot Guard Riders. Pallbearers were Bill Randall, Everett Randall, Gary Nelson, and Gene Nelson.

Darrell John Spinler was born June 16, 1938, in Graceville, MN, to Gerald and Myrtle Spinler. Darrell attended school in Browns Valley, MN. In high school, he played basketball, baseball and was a member of the band. After graduation, he attended South Dakota State University on a basketball scholarship. He graduated June 1960 with a BS degree and also earned his commission as a 2nd Lieutenant in the Air Force through the ROTC program.

After completing his pilot training, he received his wings in September 1961. He was then trained in the AIE-Skyraider before leaving for Vietnam in 1966. There he was assigned with the 1st Air Commando Squadron at Pleiku Air Force Base. He was involved in many attacks, bombings, and air support missions. On June 21, 1967, Darrell was killed in action while on a bombing mission.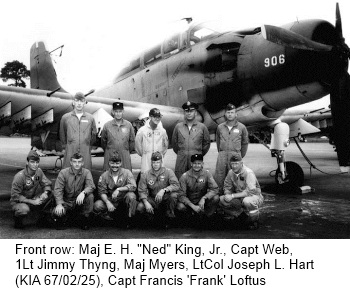 Darrell left behind at the time of his death his wife, Darlene; two sons, David and Dwayne; his parents Gerald and Myrtle; a sister, Sharon; and nieces and nephews.

Present family survivors include David and his children Derek and Dedra of El Cajon, CA, Dwayne and his wife Dawn and their son Darrell of Thornton, CO; sister, Sharon and her husband Bill Collins of Tehachapi, CA; and three nieces and nephews.

His awards and decorations include the Silver Star, 1st and 2nd Oak Leaf Cluster for the Distinguished Flying Cross, Bronze Star, Commendation Medal, 6th through 9th Oak Leaf Clusters to the Air Medal, and the Purple Heart.

Darrell returned home on June 18, 2011.