02 May 2003
SAN LORENZO HIGH SCHOOL
VETERANS MEMORIAL PROJECT
Eleven former San Lorenzo High School students died while in combat during the Vietnam War. Eight students graduated from San Lorenzo, three transferred from SLZHS before their graduation. In keeping with the desires of the San Lorenzo Veterans Memorial Program team members, all former San Lorenzo students are honored.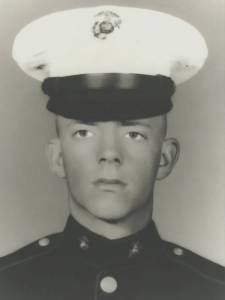 Steve served in the Marine Corps. He was killed on January 27, 1967. He died saving the life of another Marine. For this act of heroism Steve received the Navy Cross. Steve died just 2 days after his 20th birthday. The Receiving Barracks at the Marine Corps Recruit Depot San Diego is named for Steve.
Steve was originally recommended for the Medal of Honor for his actions, but the award was approved for the Navy Cross. Navy Chaplain Ray Stubbe mentions Steve in his book ("Inside Force Recon, Recon Marines in Vietnam" by Michael Lanning and Ray Stubbe) and the circumstances surrounding his death and the subsequent medal recommendations. Steve's sister has wanted to see if the original recommendation could be acted on. For the last two years she, our students and various veteran groups have worked on trying to get the Navy Cross upgraded. Last fall the Marine Corps stated that the Navy Cross could only be upgraded if new documentation can be submitted justifying such actions. We're in the middle of that process right now.
The SLZHS Veterans Memorial Project annually awards a scholarship to a deserving SLZHS student in honor of the men named above.
Until recently Gunnery Sergeant Joseph Menusa, USMC, was a Marine Corps recruiter at San Lorenzo High School. A veteran of the 1991 Persian Gulf War, GySgt Menusa voluntarily left his recruiting billet in January 2003 for assignment to the 1st Combat Engineer Battalion, 1st Marine Division.
We now have the sad duty of reporting his death:
Gunnery Sergeant Joseph Menusa, USMC
Killed in Action in Iraq on 27 March 2003.
In addition to his parents and two brothers,
he is survived by his wife Stacy and son Joshua, age 3,
of San Jose, California.
He was buried with honors on 11 April 2003,
Santa Maria Cemetery, Santa Maria, California.

The team members have decided that the 2003 Veterans Memorial Scholarship will not be awarded to an SLZHS student, but will be presented to GySgt Manusa's son Joshua in the form of a savings bond.
San Lorenzo High School
Attn: Veterans Memorial Program
50 East Lewelling Boulevard
San Lorenzo, CA 94580
Telephone: 510/317-3100 x. 2257
slzvets@yahoo.com