During the Vietnam War there was no overriding reason to keep close track of names of the men and women who died as a result of military service in the war zone. A decade after the withdrawal of US forces, the Vietnam Veterans Memorial was approved for construction. The service branches went back through their records to identify our dead by name.
Inevitably some men who should have been named on the "Wall" were not. Over the years additional names have been inscribed on the Wall - some were men who died after the war as a result of wounds received in the war or from disease or illness, and others were men whose names were overlooked in earlier years.
The Department of Defense approved having his name etched on the Wall during May 2016, along with 7 other names. His name was etched as close to the names as possible of those who died the same day where space was found to add his name. These are the 8 men who were added to the memorial this year:
---
From the Washington State area papers, John David "Dave" Stenhouse's obituary read something like: Dave was a resident of Tumwater, Washington at the time of his passing.
Dave was born to Lorraine and George Stenhouse in Winnipeg, Manitoba, Canada. At age two, the family moved to Spokane and the surrounding area. He attended Stadium Grade School, Glover Jr. High, and graduated from Shadle High School in 1967.
He received an AA in Business and Personal Finance and another in Psychology from Spokane Community College.
Dave married the love of his life, Elizabeth Brincken, in June of 1968. They had two children, Sean (Melanie) and Sara. He enjoyed photography, travel, and fishing, but most of all his friends and family.
Dave is survived by his wife; children; grandchildren; sister, Lynn Barnhart and brother Jim Stenhouse.
---
The notices did not mention when Dave served in Vietnam, so records from the National Archives and Records Administration in St. Louis have been requested in order to determine when he went to Vietnam, his unit, and info of the incident that ultimately took his life in the service of his country.
Dave is buried in Saint Josephs Cemetery, Trentwood, Spokane County Washington.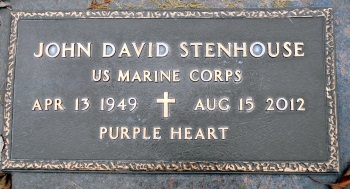 - - - The Virtual Wall, June 19, 2016