During a training session outside the base camp with other members of the unit, an enemy booby trap was detonated, killing 6 men. Those killed in the explosion were:
---
SGT Lee Davis Stuart, Jr. was survived by his mother Annie Pearl Stuart (1932-2004) and father Lee Davis Stuart, Sr. (1928-2009). As of his fathers passing in 2009, he was also still survived by five Stuart brothers, Bobby Joe, Timothy Howell, Dennis Ladale, and Michael Eugene, all of Purvis, and William Howard Stuart of Midway; and two Stuart sisters, Regina Joyce Sowards and Lisa Faye Stuart, both of Purvis; three aunts Liz Brown of Georgia, Martha Shows of Hattiesburg and Joyce Yawn of Purvis; three uncles, Jesse Stuart of Hattiesburg, Charles Stuart of Richton and Arthur Stuart of South Carolina; 18 nephews and nieces and 31 great nephews and nieces.
He was laid to rest in Grantham Cemetery, Lamar County, Mississippi. His parents are also interred there.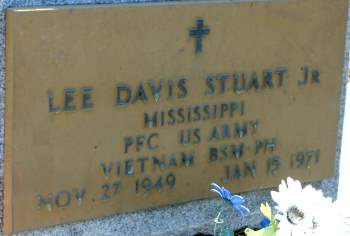 ---
Our Veterans' names carved in stone and bronze remind us of the high price paid for loyalty and valor. Memorial Day is a good time to walk in cemeteries and to remember the dead with gratitude.
---
- - The Virtual Wall, September 18, 2017