From the marriage (before August 15, 1937 and the birth of their first child) of Bertie Mae (McDonald) and Ray A Summers came 7 children. In 1940, Bertie, Ray, and Sue Ray (age 2) were living in Finley Oklahoma, an unincorporated community in Pushmataha County, 10 miles northeast of Antlers, Oklahoma in the southeast corner of the state. It is approximately 45 miles north of the Texas border near Paris, Texas.
Sometime between the 1940 census and the birth of Donald in 1944, the family moved to New Mexico to the Artesia/Mayhill area. Artesia is 110 miles east of Alamogordo and 40 miles south of Roswell. Mayhill is 60 miles east of Alamogordo. Donald was born in Artesia along with James Thomas and Ronald Wayne. It is not known when and where sisters Jerri, Janice Lorene, and Patricia "Patsy" Carol were born. As can be seen in the funeral newspaper clipping, Donald attended the Artesia High School for 3 and a half years before joining the service in 1965 and subsequently going to Vietnam.
Hill 534, on the southern portion of Chu Pong Massif near the Cambodian Border, was the location of the final battle of Operation Paul Revere II. It began on 14 August, after Company "A" 1st Battalion, 5th Cavalry suddenly ran into a North Vietnamese battalion and Company "B", 2nd Battalion began slugging it out with enemy troops in bunkers. A total of two battalions of Skytroopers were committed to the fight. When it ended the next morning, 138 NVA bodies were counted.
The losses to the United States were 42 dead in the first half of August 1966 near Chu Pong. See the list of names and read specifically about the battle for Hill 534 with a list of names of the 17 men killed from the 5th Cavalry Regiment.
At the end of Paul Revere II, which had killed 861 of the enemy, a task force of the 2nd Battalion, 7th Cavalry was organized for Operation Byrd. The task force was dispatched to Binh Thaun Province, at the southern of II Corps, to support the Revolutionary Development Program. This mission would last until the end of 1966.
The family of PFC Donald L Summers was notified of his death directly by the Army and then the community of Artesia New Mexico was informed of his death in the local and area newspapers. His funeral service was announced in the same manner as shown below: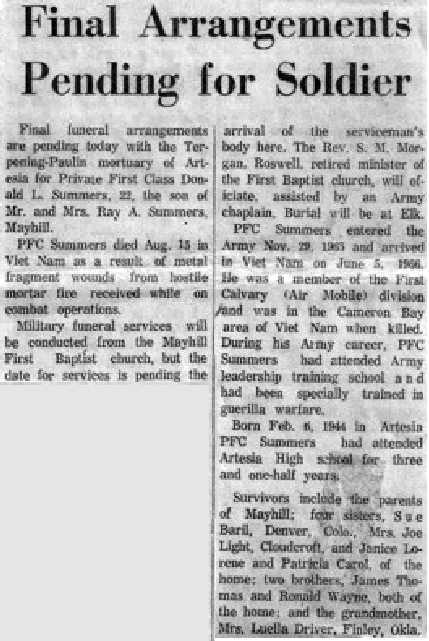 PFC DONALD L SUMMERS
---
Donald L Summers is buried in Elk cemetery which is at a turn-off 4 miles east of the Community of Elk, or 15 miles east of Mayhill, New Mexico. He is interred there along with his sister Sue Ray Shutterworth who passed on November 23, 1971, and his brother Donald Wayne Summers who also served in Vietnam and died March 02, 1981.
Brother James Thomas Summers (February 12, 2006) is buried in Parker cemetery, near Mayhill after living his life in that area.
Their Mother, Bertie Mae (October 4, 1992) is buried in Finley Cemetery, Finley, Oklahoma, near her parents, Martha Luella McDonald Driver and Thomas McDonald.
According to records, Ray A Summers passed away on March 1, 1979 but his burial location is unknown. PFC Donald is currently survived by 3 sisters, Jerri (Mrs Joe) Light; Janice Lorene, and Patricia "Patsy" Carol.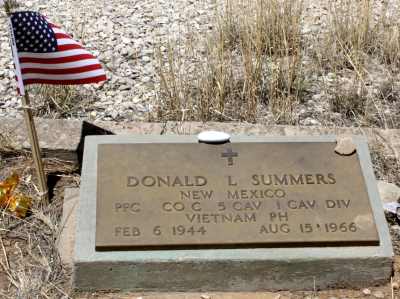 Marker in Elk Cemetery, Elk, New Mexico
---
- - The Virtual Wall, April 27, 2014