John Lornie Thibeault
Staff Sergeant
A CO, 2ND BN, 2ND INFANTRY, 1 INF DIV
Army of the United States
25 August 1926 - 05 December 1965
Dracut, Massachusetts
Panel 03E Line 134
The database page for John Lornie Thibeault
30 May 2005

John, I was with you and SFC Willie Wright on that fateful day. I have not forgotten you and Willie. May God comfort your souls on this Memorial Day 2005.

1st Sgt (Ret) R. Hoffman
gallantknight1@juno.com

14 Apr 2006
REMEMBERED
I have his Silver Star, his Bronze Star, and his Purple Heart.
From his son,
John R. Thibeault
jt4@jmbm.com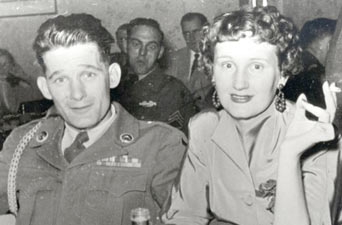 SSgt John L. and Mrs. Erika Thibeault
Taken circa 1955, probably in Germany
A Note from The Virtual Wall
On 05 Dec 1965, during Operation BUSHMASTER II, the 2/2nd Inf became heavily engaged with an estimated VC regiment. They were supported by A/2/33rd Arty and reinforced by 2/28th Infantry. During what became known as the battle of Ap Nha Mat, the US units killed 301 VC, captured many weapons, and destroyed a main camp ... but there were 37 dead and 3 MIA from the 2/2 Infantry, one from Charlie 1st Engineers, and a Forward Observer from A/2/33 Arty. SSG John Thibeault was one of the 2/2 Infantry losses.


---

Staff Sergeant Thibeault began his military service in the Navy during the closing days of World War II. He then went into the Army, served in Korea during the fighting there, and arrived in Vietnam with the 2nd Battalion, 2nd Infantry on 16 October 1965.
---
With all respect
Jim Schueckler, former CW2, US Army
Ken Davis, Commander, United States Navy (Ret)
Memorial first published on 20 Jun 2005
Last updated 08/10/2009