07 Oct 1998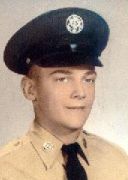 This is my dad, Army Staff Sergeant William A. Thomas, C Company, 2nd Battalion, 8th Infantry, 4th Infantry Division.
He served in Vietnam and was killed during hostile ground action in the province of Kontum on February 16, 1967. He was 27 when he died. I was only 4 months old so I never got to grow up with him in my life, but through stories from relatives and dad's friends I feel that I knew him. He may not have been in my life, but he has always been a part of my life and I make sure his memory stays alive with my son.
We are very proud of the sacrifice my father made and do what we can for those listed as POW/MIA.
They will never be forgotten...
Please visit my
memorial to my father
From his daughter,
Karen Webley
KarWeb@aol.com