Major Larry Alan Thorne / Lauri Allan Torni
To the United States Army, he was Captain Larry Alan Thorne. In Finland he was a much decorated Captain during World War II by the name of Lauri Allan Torni. He fought during the Finnish Winter and Continuation Wars and moved to the United States after World War II. He is the soldier who fought under three flags: Finnish, German (when he fought the Soviets in World War II), and American who served in U.S. Army Special Forces in the Vietnam War.
He was born in Viipuri, Finland, to ship captain Jalmari (Ilmari) and Rosa (nee Kosonen) Torni. He grew up with two sisters, were Salme Lesley and Kaija Iris. Lauri was athletic growing up. Torni entered Finland's military service in 1938, joining the 4th Independent Jaeger Infantry Battalion stationed at Kiviniemi. As the Winter War began in November 1939, his enlistment was extended and his unit confronted invading Russian troops at Rautu.
Torni took part in the annihilation of the encircled Russian divisions in Lemetti and as a result, his feats were noticed, and ultimately toward the end of the war, he took officer training and was commissioned a Vanrikki (2nd lieutenant) in the reserves.
Most of Torni's reputation was based on his success in the Continuation War (1941-44) between Finland and the Soviet Union and Finland. In 1943, a unit informally named Detachment Torni was created under his command; an infantry unit that penetrated deep behind enemy lines and soon enjoyed a reputation on both sides of the front for its combat effectiveness.As a result of his military service to Finland, he was awarded 8 medals, to include the Mannerheim Cross, for action on 9 July 1944 (Equivalent to the United States Medal of Honor).
The September 1944 Finnish peace treaty with the Soviets resulted in much of the Finnish Army being demobilized. Torni was unemployed in November 1944. In January 1945, he was recruited by a pro-German resistance movement in Finland and left for saboteur training in Germany. After the training was prematurely ended, and could not get back to Finland, he joined a German unit to fight against Russians near Schwerin, Germany. He surrendered to American and British troops in the last stages of World War II and eventually returned to Finland in June 1945 after escaping a British POW camp in Lubeck, Germany. For service in the German Army, he was awarded a 2nd Class Iron Class for action on 11 December 1943.
He was ultimately tried, convicted, escaped, and pardoned (December 1948) in the post war years for joining and fighting in the German army. He worked his way to the United States by 1950. He settled in New York City, working as a carpenter and living in Brooklyn. It took an act of Congress in 1953 to get his permanent residency thanks to a former head of Office of Strategic Services (OSS), America's wartime covert military operations.
Torni joined the U.S. Army in 1954 under the provisions of the Lodge-Philbin Act and adopted the name Larry Thorne. While in the US Army, he was befriended by a group of Finnish-American officers. With their support, he advanced through the enlisted ranks and into the Special Forces, quickly becoming a training asset, teaching skiing, survival, mountaineering, and guerilla tactics.
SSG Larry A Thorne
In 1957, he completed OCS and commissioned as a 1st Lieutenant, Signal Corps. In 1962 Thorne was a lieutenant with the 10th Special Forces Group. A winter operations expert, Thorne led in 1963, a Special Forces mission to recover Top Secret documents, equipment, and bodies from an C-130 aircraft crash high on an Iranian glacier (picture below). Others who went before were not successful in their attempts.
Deploying to South Vietnam in November 1963 to support South Vietnamese forces in the Vietnam War, Thorne and Special Forces Detachment A-734 were stationed in the Tinh Bien District. During one particularly fierce battle, he received two Purple Hearts and a Bronze Star Medal for valor.
Thorne's second tour in Vietnam began in February 1965 with 5th Special Forces Group; he then transferred to Military Assistance Command, Vietnam - Studies and Observations Group (MACV-SOG) as a military advisor.
On 18 October 1965, he was supervising a clandestine mission during when the Vietnam Air Force CH-34 helicopter, in which he was a passenger, crashed in a mountainous area of Phouc Son District, Quang Nam Province, 25 miles (40 km) from Da Nang.
Conditions included increasing fog and descending cloud ceiling, jungle covered mountains, and rain. They had limited or no instrumentation and they were flying by landmarks in an attempt to get over the mountain range to the coast. Rescue teams were unable to locate the crash site. Thorne was posthumously promoted to the rank of major.
In 1999, Major Thorne's remains were found by a Finnish and Joint Task Force-Full Accounting team. His remains were repatriated to the United States following a Hanoi Noi Bai International Airport ceremony.
Formally identified in 2003, his remains were buried on 26 June 2003 at Arlington National Cemetery, along with the remains of his Vietnamese friends and counterparts. The US was unable to separate the discovered remains so they all were buried together in the United States.
For his last mission and service to the United States, he was posthumously awarded the Distinguished Flying Cross and Legion of Merit (Legionaire).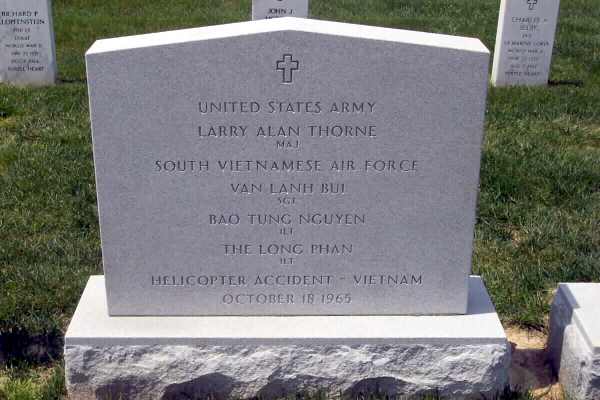 ---
You can read more about him in the links below.
Wikipedia, the free encyclopedia
Arlington National Cemetery Unofficial Website
Web blog with a
sixth article by Henrik Holappa on Torni.
US Command and General Staff College
Military Review Magazine, May-June 2002 Issue
DigPlanet Research site
.
POW Network Biography
.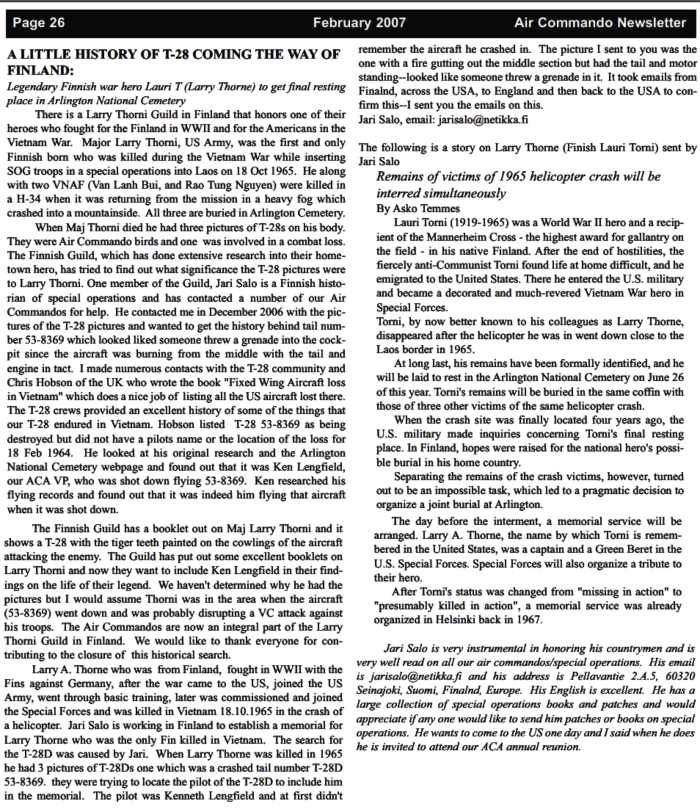 ---
- - The Virtual Wall, June 22, 2014