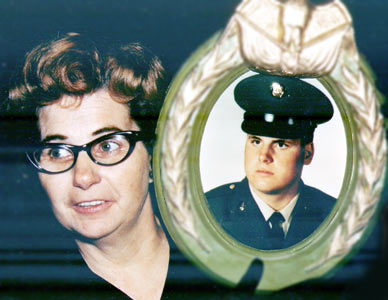 To David, My Son
- June 6, 1969 -


He sent us a picture from Vietnam,
General William R. Kraft was shaking his hand.
This gallant young medic, whom so many admire,
Had rescued the wounded, under enemy fire.
Not of his safety was his thought,
His wounded men out must be brought.
He stood tall and lean in battle dress,
The Silver Star emblazoned his chest.
In April he went on his "R&R",
He called from Japan - it seemed so far.
How good it was to hear his voice!
I'd have had him home, had it been my choice.
But no, his great ambition lay
To fight for his Country, far, far away.
This handsome young lad was only nineteen,
He certainly had a patriot's dream.
Then just last Saturday, at One,
We learned that David's work was done.
'Twas in our living room we met
An Army Sergeant, who said with regret,
"It's my sad duty to declare,
Your son has given his life over there."
Oh, David we'll miss you in this vale of tears,
But you will be ours for eternal years.

---
Note:
Written for David's Memorial Service
by his father,
Laurence L. Tiffany (1917-1995)
Master Sergeant, U. S. Air Force (Ret)
World War II, Korean Conflict