Photo of Lonnie, date unknown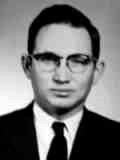 An update to the 525th MI Group report on MIAs, shows Lonnie went missing on 12 August 1968. He was on authorized leave to go to Japan for R&R. He departed his unit on 9 August and arrived at Dong Tam Air terminal where he signed a stand by manifest awaiting flight to Bear Cat.
When four helicopters arrived at Dong Tam AT, persons awaiting flight boarded the aircraft, and Enlisted Man apparently boarded one also. One of the four aircraft developed mechanical trouble, crashed and burned. The remains of 10 persons were recovered on 13 August and 9 had been identified.
Those remains not identified were SSG Tullier and it was not until 30 April 1973 before they could be identified with the advances in forensic sciences. His status was changed from Missing In Action to Dead on 1 May 1973, with the effective date of death of 12 August.
SSG Tullier was survived by his wife, Marion S. Tullier, son Jay (1963- ), and his mother Tennie Wilma (Jones) Tullier Armony (1912-2007), of Baton Rouge. He was predeceased by his father, Abner Joseph Tullier (1904-1958).
SSG Tullier was buried in Salem Cemetery, Walker, Livingston Parish, Louisiana. It's a quaint little place in the country which Lonnie was born and raised (Denham Springs, LA). His father and mother are also buried in the same cemetery.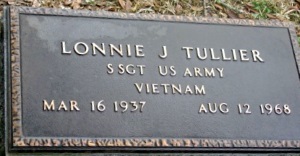 ---
- - The Virtual Wall, September 7, 2016