Tribute to Michael Barry Turner, PFC, USMC
He's more than a name upon a wall.
He was a soldier, a brother, a son, and a friend...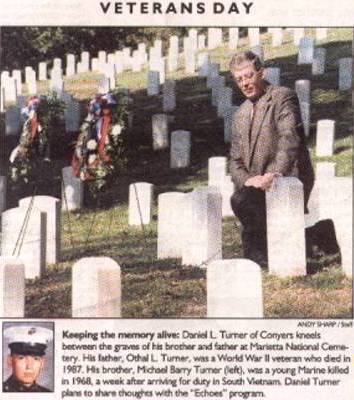 Atlanta Journal Constitution
11-11-99
In commemoration of my brother Michael Barry Turner, PFC USMC;
April 6th, 1948,
KIA Tet Offensive, Battle of Hue City Feb. 18, 1968
---
MICHAEL BARRY TURNER
"Across the Belvedere"
Beneath wind turned flags,
Infinite Peace,
Brothers join hands in solemn memory.
As the cold wind of time
blows through fields of valiant stone,
for as long as I live
you're never alone.
D.Turner
---
For those of you that didn't know, my brother Mike was mortally wounded in battle 30 years ago this year. Since that time, my father maintained a constant count of Memorial Day adornments to all the grave sites in Marietta National Cemetery during our annual trip to my brother's grave to set out a wreath. It was always a humbling little venture to hear my old man gripe, bitch and swear about a lack of remembrance on this one time of the year that he upheld for the sake of his son.
He never missed a year until his passing in 1987. Those of you that never met my old man would never guess where some of my "browbeating" habits derive. It's hard to find a way to describe how my dad had the foresight to "arrange" for his own burial as a Veteran of Guadalcanal, in a little triangular patch next to my brother's grave ... an area that I had thought to simply be a small space just at the end of the row of headstones. Obviously, my father had come to an "understanding" with the caretaker in 1968 transpiring something akin to an "act of God and Congress."
In that regard, my annual sojourn and commemorative display has doubled with a pair of red, white & blue live wreaths that stand side by side below the belvedere in Marietta looking out over thousands of marble headstones with miniature flags. While I drive through the National Cemetery to the gravesites now, I too count personal commemorations, and just like my old man, I too ... gripe, bitch and swear.
Yet, unlike my dad, I've learned to accept my generation to be considerably unlike his in certain matters. Some people will NOT go to Marietta National for the pain that it causes. Others will never go to Marietta National because they've never had to live through a KIA death. My mother, a BAM (Beautiful American Marine) in her own time, has never once been to The Wall or its mobile counterpart because I truly believe she refuses to allow herself the same agony I witnessed when I answered the doorbell one bright Saturday morning to our pastor and a Marine in uniform 30 years ago.
I s'pose it's all relative to families dying away and moving far from these honored grounds. It's human nature to steer clear of the obvious dangers to morale and life, feelings and spirit. It's a lot easier to keep out of harm's way and cleanly avoid the day to day terrors surrounding each of us.
Unless, you're 19 and right off the plane; thrown into the mill with thousands of Marines that had no idea what the Tet Offensive would ever mean. Advancing on a city with a deceptively pastoral little name like Hue that became the purgatory styled basis for the Stanley Kubrick movie, "Full Metal Jacket". It's only become apparent years after the fact that most of the new blood dropped into Viet Nam during that period found themselves embroiled in something not quite expected and only within days or hours of their arrival. To die in Viet Nam was jested with a "No Experience Necessary" sign posted upon your arrival.
"It's a shame that such a young man has died" were the words spoken at several eulogies during the 40 days it took to bring my brother home. Actually, it truly wasn't a shame because Mike died fulfilling some directive ... that only Mike could ever know. It was his fate to die there, surrounded by strangers and just maybe ... hopefully ... a few pals with a wound that should not have allowed him to suffer... hopefully my brother did not suffer. This ... I'll never know.
Mike had the opportunities. Mike could have stayed away. Steered clear of the obvious dangers to morale and life, feelings and spirit. Stayed out of harm's way while avoiding the carnage of the Battle of Hue City. Now THAT would have been human nature!
Rather and instead, my brother took the point into the mawl and what Viet Nam gave back ... I honor each year. Mike chose to be in harm's way, and fate chose Mike with the cross hairs of sniper fire. He died as a 19 year old Marine, for all eternity in dress blues and white gloves; never marrying his high school love; never taking over my father's business and never there to sort out his siblings during the tumult of the 60's and 70's. His death rent some personal fabric that never seems to mend, but then again ... this is what makes Memorial Day that much more personal to me and countless others that have gone through the process of an immediate family KIA.
The purpose of this missive is nothing more than a 3rd decade honoring that of my older brother keeping in mind the hundreds of thousands before and after him in "service to a grateful nation" .... those words being the offering from the OIC of each funeral in presenting the burial flag to the immediate family. One of the purposes of Memorial Day is NOT the unoffical first day of Summer, rather it's the purpose behind those final words ... "a grateful nation". For me, another rending period of reflection as I take two wreaths to the National Cemetery and see thousands of unadorned and forgotten graves from many battles and realize that one day, these two stones will likewise go without the personal commemorations they will always deserve. At that point, it's up to you.
In the same fashion, it was up to Mike, too. In choosing not to steer clear or keeping out of harm's way. By bravely overcoming any fear within himself to go over and beyond that basic part of human nature and instinct while a ferocious battle surrounded him, my brother Mike found himself in common with these hundreds of thousands of men and women that likewise saw their hopes, ideals and dreams snuffed in a single fateful moment.
If you can't think of any one thing in particular to raise a toast to on this holiday, think of one 19 year old Marine named Mike and in that salute you'll be honoring the memories of hundreds of thousands who went to war on our behalf ... with the same hopes, ideals and dreams that made my brother enlist in the service of his Country, his "grateful nation" and his Corps.
Written by:
Dan Turner
Memorial Day 1998


---
Vist the complete memorial to
Michael Barry Turner