On 29 September 1967 elements of 2nd Bn, 327th Infantry and 2nd Bn, 502nd Infantry encircled an NVA unit at Hiep Duc City in Quang Tin Province. Sixteen US soldiers were killed in the ensuing fight to include SP4 Robert Anderson who was hit while evacuating a wounded member of the 327th Infantry:
2nd Battalion, 327th Infantry Regiment

2nd Battalion, 502nd Infantry Regiment

161st Assault Helicopter Company (AHC), 14th Aviation Batalion, 1st Aviation Brigade
---
George's family did call him Skipper. They loved boating and George was a "sailor" from a very early age. Attached is an announcement from "Merrick Life", a local newspaper with a picture of George. Notice that he wanted friends and family to write.
Regards,
John Riebe,
09 April, 2015.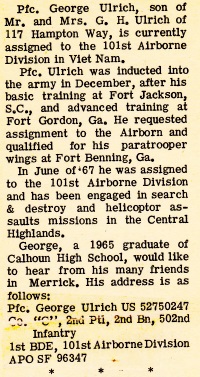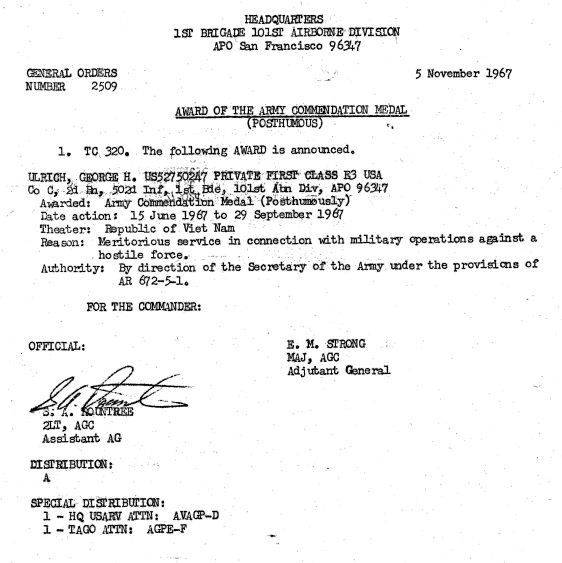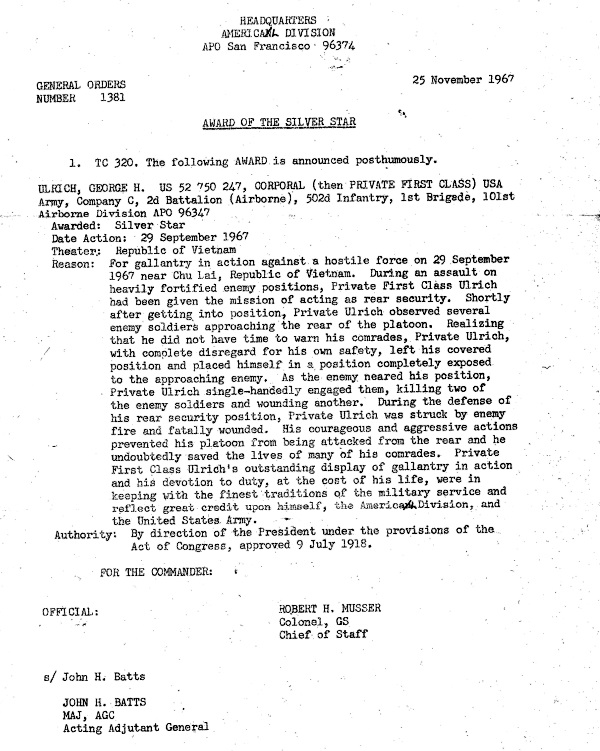 ---
At the time of his death, CPL Ulrich was survived by his mother Margaret B Ulrich (1912-2000) and his father George Henry Ulrich Jr, (1915-1968). His father served as a Technical Sergeant, 1296th Combat Engineer Battalion and his mother was also a Sergeant who served during World War II. The family is buried in Long Island National Cemetery, Farmingdale, New York (Photo for CPL Ulrich's marker requested).
His paternal grandparents are also buried in Long Island National Cemetery: Grandmother Margaret van Houten Ulrich (1882-1956) and George Henry Ulrich (1877-1947).
He was also survived by at least one sister, Francine, according to John as well as on the internet, the following information was posted:
Contributed By Fran Bayona-Ulrich-Schwenker On Saturday, February 12, 2000
Searching for anyone that served with my brother Skipper. Started tour 6-15-67. KIA 9-29-67 in Quan Tin. The soldier who accompanied body stayed and mourned with family in Merrick, NY. A survivor of Quan Tin paid us a visit on his return home to the United States. I would love to hear from them or anyone else that knew or fought with him.
The email associated posting is: AMFWIC@aol.com
- - The Virtual Wall, 09 April, 2015.
---
---
- - The Virtual Wall, April 10, 2015