In addition to the medals shown above, SP4 Joseph Valesko was awarded the following medals and qualification badges: Republic of Vietnam (South Vietnam) Military Merit medal and Vietnam Cross of Gallantry with palm frond; Expert Marksmanship Badge with Rifle bar and Sharpshooter Marksmanship Badge with Automatic-rifle and Machine Gun bars. On August 15, 1969, Joe was also awarded the New York State Conspicuous Service Cross for his Conspicuous Service to the People of New York. It was signed by Governer Nelson A Rockefeller.
| | |
| --- | --- |
| Expert Badge | Sharpshooter Badge |
Joe was born to Pauline (Polly) Roach Valesko and Joseph Valesko, Sr. At the time of Joey's birth, his father was serving in the South Pacific in World War II. Joe graduated from Middlesex Valley Central School in June 1963 (Senior Class Picture).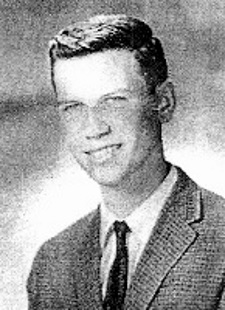 His great love was baseball and his favorite team was the Chicago Cubs, and from the Genundagan 1963 Yearbook, we learn he played baseball in the 10th, 11th and 12th grades. He was a Boy's State Representative.
After high school, Joe attended the University of Buffalo where he received a bachelor's degree 1967, majoring in Chemistry. Joe was against the war in Vietnam and the family in general did not consider the war a serious threat to our national security. However, Joes' father, a combat naval veteran, made it clear to his son that if his country calls, his country surely needs him and he must answer his call to duty.
Joe was drafted and attended basic training at Fort Dix, N.J. and completed his Advanced Individual Training (AIT) at Fort Gorgon, Georgia. He began his tour in Vietnam on November 21, 1968. In May of 1969 he writes to his parents that he is now Squad leader and should be a Sergeant by next month. He tells them "Nothing new is happenng here except that it is getting hotter and beginning to rain more. Last night we went out on an ambush so I didn't get much sleep. Especially since there were so many mosquitoes out last night."
Joe also wanted to be sure his parents were receiving the money and savings bonds that he was sending home - - saving for the future.
On 6 June 1969, Joseph was engaged in a sweep mission. At approximately 12:00 noon, intense enemy small arms, automatic weapns, and rocket propelled grenade fire was encountered by his unit, causing him to sustain penetrating missile wounds to his abdomen. Two men were killed in this contact: Joseph and PFC William Michael Crusie, Wappingers Falls, New York.
As a result of their efforts, both men were awarded a Silver Star Medal, the nation's third highest military award.
Citation created from
Department of the Army
Headquarters, 25th Infantry Division
APO San Francisco 96225

General Orders 9068, dated 12 July 1963
The President, under provisions of the Act of Congress, approved 9 July 1918, AR 672-5-1, and USARV Reg. 672-1, has awarded the SILVER STAR (Posthumously) to

SPECIALIST FOUR
JOSEPH VALESKO, JR.
For gallantry in action: Specialist Four Valesko distinguished himself by heroic actions on 6 June 1969, while serving with Company A, 3d Battalion, 22d Infantry in the Republic of Vietnam. While on a reconnaisance in force operation, elements of Company A came in contact with a large enemy force. Immediately, Specialist Valesko, with complete disregard for his own safety, exposed himself to the hail of fire as he placed his men into strategic positions and directed their fire on the hostile positions. When Specialist Valesko spotted one of the hostile machine gun positions, he assaulted the emplacement. As he neared the position, Specialist Valesko was fatally wounded. His valorous actions contributed immeasurably to the success of the mission and the defeat of the hostile force. Specialist Valesko's bravery, aggressiveness, and devotion are in keeping with the highest traditions of the military service and reflects great credit upon himself, his unit, the 25th Infantry Division and the United States Army.


He died instantly according to his Company Commandng Officer (CO) and was spared prolonged suffering. The CO continued saying that throughout Joseph's assignment to A Company, the CO had observed Joseph to be an exemplary soldier. His integritey and devotion to duty earned him the respect of all with whom he came in contact. His loss was keenly felt by other members of his company and it was a time of great sorrow. A memorial service was held in Joseph's memory.
A Western Union telegram sent to Mr. and Mrs. Joseph Valesko, Sr. informs him of the arrival of his son's remains on June 14 at Rochester arriving from Dover Air Force Base. Among the possessions that would later arrive were his dog tags, St. Christopher's medal, a book titled A Soldier Prays in Vietnam, and bundles of letters and photos.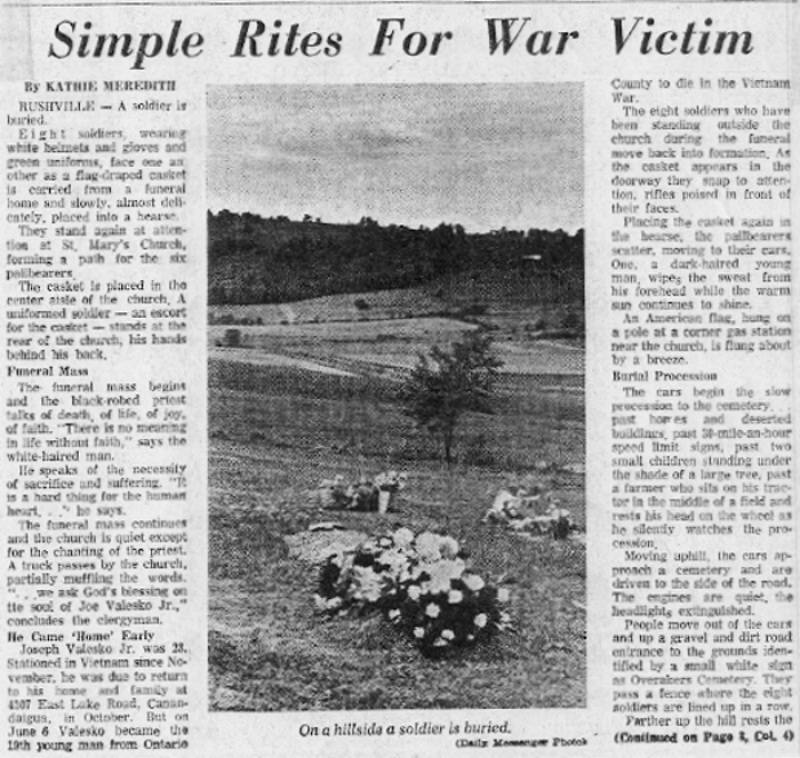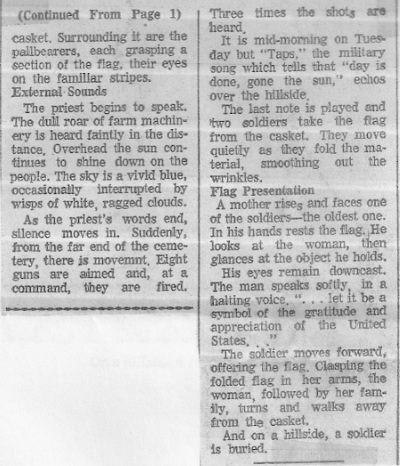 June 18, 1969 letter from President Richard Nixon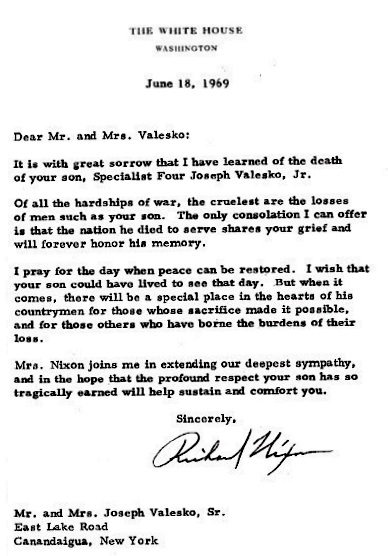 A letter to Mrs and Mr Valesko from Herb F--, written on June 24, a friend who was close to Joe and was with him on June 6 when their unit got hit by the enemy: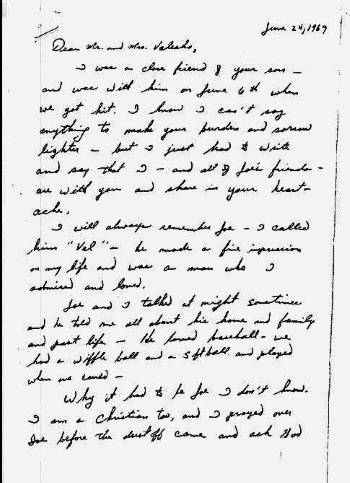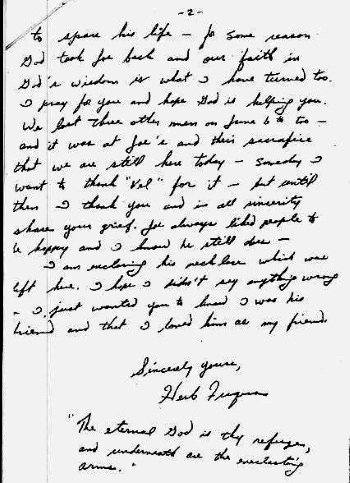 Besides his parents, Pauline Grace "Polly" (Roach) Valesko (1926-2009) and Joseph Valesko Sr. (1920-1989 - a World War II Navy veteran), Joe Jr. left behind two sisters. Diann Valesko Detro, and Paula Valesko-Woodworth (1953-1979), and two brothers, Thomas and Stephen.
He also left behind a special sweetheart, Linda Monahan, who at the time of his death was a Biology teacher in the Geneva School District. Joseph, along with his parents, are buried in Overackers Cemetery, Middlesex, Yates County, New York.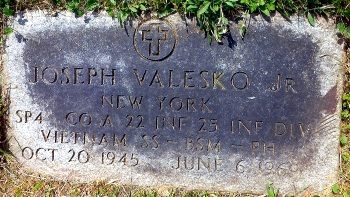 On July 5, 1980, the Crystal Beach Betterment Association dedicated a park in memory of Joe. The flag that flew at the park that day was the burial flag from the U.S. Army presented to the family at the time of his death.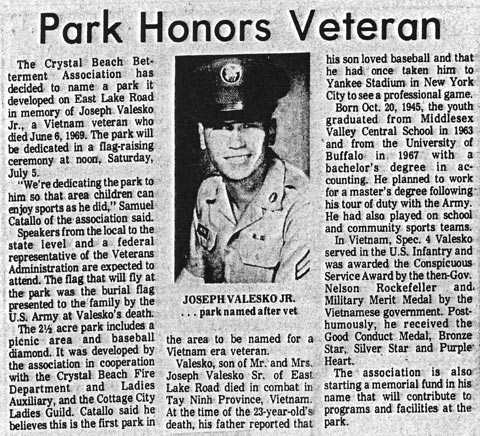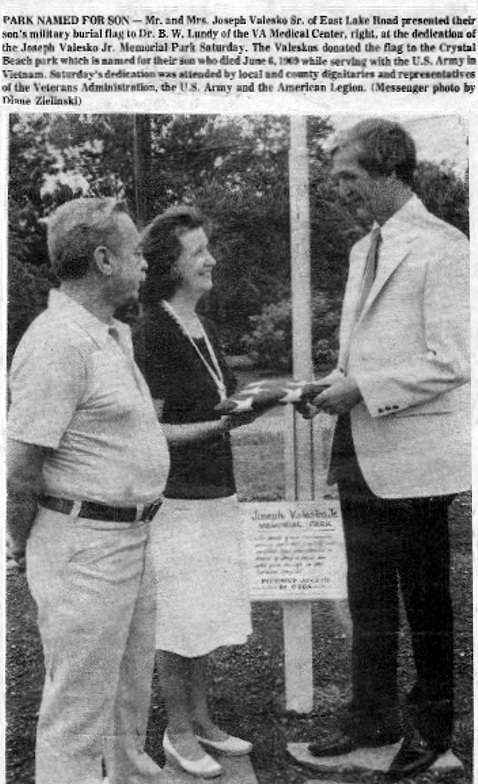 ---
- - The Virtual Wall, October 1, 2014