The official record states, that while setting up a patrol area, Company A, 1/61st Infantry, lost two men in an accident on 30 Nov 69, when artillery fire, being used in the area, detonated near them. They were: SGT Robert Eugene Vandergriff and PFC David Leonard Nicholson.
---
A former member of A Company, Louis Pepi, (Email me) posted the following information:
"I think of David often and Bobby Vandergriff who died too on that day.
It was a Sunday and we went out with 2 officers and a radio operator so they could practice adjusting mortar fire. There were 7 of us. The first 4 rounds were erratic and none landed where they were supposed to.
The fifth round landed on top of David, Bobby and Gary Kent. Gary was seriously wounded and shipped home. I was 10 feet away and shielded by a small berm but sustained a concussion and blown eardrum. The 2 officers and the radio man were slightly wounded. They said the cause was wet charges.
I can tell you David did not suffer and passed away while in my arms. It was such a sad day. The picture that Ken Ford has posted [for David Nicholson] is from my collection. The other soldier is Alton Hager from Missouri. I would be willing to talk to family or friends.
- - - Louis Pepi (June 25, 2014)
---
While serving with Company A, the 1/61st Infantry of the 5th Infantry Division received the Republic of Vietnam Gallantry Cross (read about the award here) and a Valorous Unit Award (VUA) for the Action of 11-13 November 1969 against 3 battalions of the 27th NVA Regiment. Read 1st page of orders here, and second page of orders here.
SP4 Vandergriff was posthumously awarded his Bronze Star Medal for Meritorious Service for the period June 1969 to November 1969, an Army Commendation Medal (ARCOM) for Meritorious Achievement for the period 23 June 1969 to 22 November 1969, and awarded an Army Commendation Medal for Valor on 13 November 1969 as noted below:
By Direction of he Secretary of the Army under provisions of AR 672-5-1, the Army Commendation Medal with "V" Device (First Oak Leaf Cluster) is posthumously awarded to


SPECIALIST FOUR
ROBERT E VANDERGRIFF

for heroism in connection with military operations against a hostile force in the Republic of Vietnam. Specialist Four Robert E. Vandergriff distinguished himself on 13 November 1969, while serving with the third platoon of Company A, 1st Battalion (Mech), 61st Infantry during the defense of a night perimeter. At approximately 0230 hours elements of the 27th NVA Regiment initiated a series of vicious sapper assaults on Company A's night perimeter. Disregarding his own personal safety, Specialist Vandergriff repeadtedly exposed himself to hostile fire in order to return accurate suppressive fire that provided effective cover for resupply and medevac helicopters. When the western sector of the perimeter was in imminent danger of collapse, Specialist Vandergriff fearlessly maneuvered from the security of his fighteing position to supply ammunition and much needed firepower to the weakened sector. Specialist Vandergriff's courageous actions contributed immensely in holding friendly casualties to a minimum while successfully maintaining the perimeter defensive line against a numerically superior enemy force. His gallantry was in keeping with the highest traditions of the military service and reflects great credit upon himself, his unit, and the United States Army.

DA, HQ, 1st Inf Brigade
5th Inf Division (Mech)
General Orders 147
10 February 1970
---
David was survived by his mother Helen "Kay" Staudenmaier and step-father, Donald G. Staudenmaier, Cincinnati. David is buried in Arlington Memorial Gardens, Mount Healthy, Ohio along with his mother.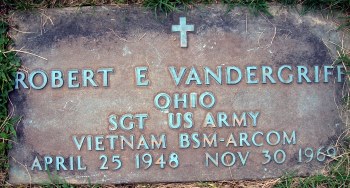 The obituary for his mother read: Helen ''Kay'' Staudenmaier (nee Owens), age 76 years, died at Good Samaritan Hospital on Saturday morning June 2, 2007. Belove wife of Donald G. Staudenmaier. Devoted mother of John W. Rick (Linda) and the late Robert E. Vandergriff.
Dear grandmother of Robert E. Vandergriff, Jennifer (Greg) Louden, Jeff and Scott Vandergriff. Great grandmother of Cierra Rain Louden-Brock and Ellis R. Louden. Dear sister of Thomas, Ernest, Lucille, Mary Francis, Anne, Shirley and the late Joyce.
Donald G Staudenmaier, SGT Vandergriff's step father, was born July 16, 1923 and passed away January 10, 2008 at the age of 84. At the time of SGT Vandergriff's death, the Army was unable to gather any information about his natural father.
- - The Virtual Wall, August 10, 2014