William Louis Vaspory
Sergeant
121ST AHC, 13TH AVN BN, 164TH AVN GRP, 1 AVN BDE
Army of the United States
06 November 1949 - 02 April 1970
Dayton, Ohio
Panel 12W Line 085
The database page for William Louis Vaspory
23 March 2003

William,

Your memory is so cherished. There is not a day that goes by that I don't think of you. I miss you so much, and hope to see you again in heaven. I never knew you, but you were my mom's fiancee before you went to Vietnam. The stories about what a great person you were are endless. I'm sad I never had the opportunity to know you, because I missed out on a truly wonderful person. God bless you.

Rest in Peace, William.

Elle E. Elswick
Dayton, Ohio
E-Mail address not known
21 Sep 2004

Let it Be Known:

Sgt. William Vaspory was my Uncle and I am his brother Richard's daughter, Denise. My mother was pregnant with me when she and my father attended William's funeral. I never knew him but I have pictures to show my children and the memories that his father, Albert J. Vaspory, shared with me of how proud he was and the tears would well up in his eyes. For they are together now and forever in Heaven! We will all be together someday! Remember the life he led and he died for our freedom! We are a proud family!

May He Rest in Peace!

From his niece,
Denise Catherine Vaspory
Highway 150, Lexington NC 27295
E-mail address not known
31 Dec 2006

William (Lajos as we called him) was my cousin on my father's side. I am Janet "Tomi" nee Orban the daughter of John Orban who was related to William's father, Albert Vaspory through his mother, Victoria nee Vaspory.

I have many fond memories of William in our childhood days as his family visited with mine frequently in the coalfields of West Virginia where I grew up. I did not know my Uncle Al's first wife or children - I only knew William's family which was his brother Michael, sister Christine and his mother, my Aunt Liz.

I did not know the entire circumstances of his death until I found this website. I do appreciate the information as we were all very close as young children.

I appreciate the opportunity to use this forum to say goodby to him and pay my fondest respects. My he rest in peace.

From his cousin,
Janet Mead
jtbead@msn.com

Notes from The Virtual Wall
On 02 Apr 1970 UH-1H (tail number 66-16991) was hit in the cabin by a B-40 rocket, crashed, and burned. The pilot, WO Ed Skuza, and the copilot, name unknown, survived with injuries but five others died:
Aircrew, 121st AHC

SP5 Clyde L. Coffman, Warrensburg, MO (DoW 04/04/1970)
SGT William L. Vaspory, Dayton, OH
SP4 Thomas J. Silva, Napa, CA (DoW 04/03/1970)



MACV Advisor Team 71

1LT Henry N. Rockower, Merion Station, PA, MACV Advisor Team 71
1LT Si, ARVN (full name not known)
UH-1H 66-16991 was named "Tiger Surprise" and had been with the 121st since January 1969. There are several mentions of "Tiger Surprise" to be found on the Internet.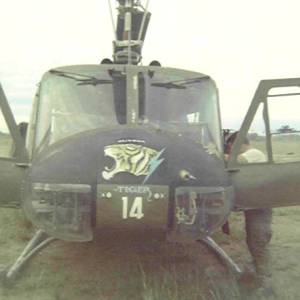 Photos courtesy of Sergeant Vaspory's family.
---
With all respect
Jim Schueckler, former CW2, US Army
Ken Davis, Commander, United States Navy (Ret)
Memorial first published on 23 Mar 2003
Last updated 08/10/2009