Below is the news article from the Cedar Rapids Gazette paper on 4-24-1967 announcing the death of Marine Corporal John Walker Wall.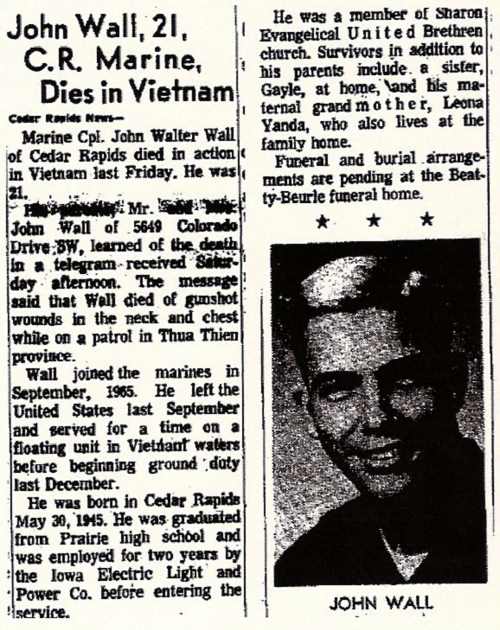 At 2050 hours on 21 April 1967, a Combined Action Company (CAC) Platoon, H-5, made contact when they encountered an unknown number of Viet Cong moving West across a bridge in the vicinity of grid coordinates ZC 090999. The patrol requested assistance and L-33 reaction force was dispatched from CAC-H5 Command Post. The reaction force made contact with the VC on the West side of the bridge. They broke contact and fled north. The reaction force fired 40 rounds of 60mm Mortars in that vicinity.

The H5 patrol and L-33 reaction force linked at 2105 hours and the reaction force crossed the bridge and searched the area south for 200 meters, making contact with unknown number of VC near ZC 091997. The VC fired 300 rounds of small arms fire, threw 10 hand grenades, and 1 satchel charge.

The patrol and reaction force returned 500 rounds 5.56mm, 500 rounds of 7.62 linked, 12 M-26 grenades, 45 ronds M-79 grenades, 40 rounds of 60mm High Explosive mortars, and 139 rounds of 60mm illumination.

A search of the area revealed 1 automatic weapon, 6 Chinese Communist grenades, 1 ChiCom 60mm Mortar round, a claymore, and 2 green tubes which appeared to be Bangalore torpedoes.

This contact resulted in the death of Corporal Wall. In addition, two Marines were wounded. The enemy lost 8 killed in action and 1 wounded in action was captured.