Wayne Levoyer Ward
Corporal
1ST SVC BN, FLSG BRAVO, FORCE LOG CMD
United States Marine Corps
11 September 1943 - 29 February 1968
Mobile, Alabama
Panel 42E Line 012
The database page for Wayne Levoyer Ward
12 Nov 2002
I Remember My Friend & Mentor
I Will Never Forget!
From a fellow Marine.
E-mail address is not available.
19 Apr 2004

I was with Wayne when he was killed on the Cua Viet River.
This photo was taken at Cua Viet.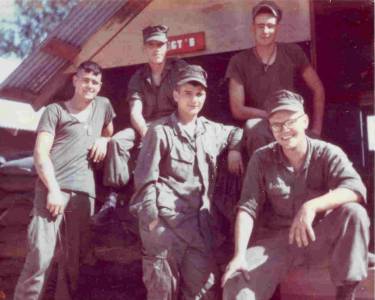 Wayne is far left and I am third from the left.
Semper Fi!


---

01 Mar 2005

Wayne it has been 37 years since you passed. I will always remember the times we spent together although it was short. There is not a day that passes that you are not in my prayers. I want to thank you for giving me the honor of knowing you. I hope some day your daughter will know what a wonderful person you were. Semper Fi, my friend. Bernie.


---

From a Marine brother,
Bernard D Haynes
509 Wurlitzer Drive, North Tonawana, New York 14120
hynbdh50@aol.com

---
With all respect
Jim Schueckler, former CW2, US Army
Ken Davis, Commander, United States Navy (Ret)
Memorial first published on 12 Nov 2002
Last updated 08/10/2009