Remembering
King David Washington
Private First Class, Army of the United States
C CO, 1ST BN, 27TH INF RGT, 25TH INF DIV

From Abbeville, LA
11 January 1949 - 30 November 1968
King David Washington is on the Vietnam Veterans Memorial, Panel 37W Line 015 .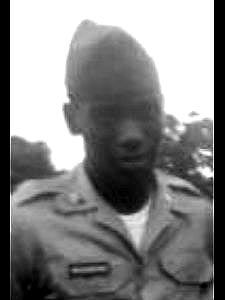 PFC Washington on the left, St. Therese Catholic Church, Abbeville, LA

PFC Washington and my uncle were together before they left for Vietnam in October 1968.

The family has pictures of my uncle and PFC Washington together at Fort Polk, Louisiana.

I do not know much about PFC Washington but I do know he gave the ultimate sacrifice when called and I salute him.

www.VirtualWall.org
To alpha index W
LA State Index . Panel 37W
27TH INF RGT Index
Contact Us

2 Sep 2002
Last updated 08/10/2009