Walter 'Jo' Wetzel was born on September 16, 1944 and grew up in Howard Beach, New York. An avid athlete, he attended the local grammar school (Our Lady of Grace) where he starred in both baseball and basketball, St. John's Preparatory School and Far Rockaway High School where he played varsity basketball.

After graduating from Far Rockaway High School, he worked briefly with the Parks Department . Jo was drafted into the Army in October 1965 and completed his training at Fort Dix, New Jersey before being shipped to Vietnam.

He was the oldest of seven children, two of whom he never met. At the time of his death, he was survived by his parents, Walter J. and Lillian T. Wetzel, 4 sisters, Maureen (19), Kathleen (18), Patricia (15), and Judith (9), and one brother, Robert who was born two months earlier. Another sister, Tracey was born after Jo was killed.

It is Tracey, and Judy's nephew Joseph Wetzel (Robert's son), who carry on where their father and grandfather left off with the raising of the flag at Jo's Memorial every Memorial Day.

Below is a photograph of Jo (left) in Basic Training at Fort Dix, New Jersey. The family has never found the name of the other soldier in the photo.
The photo below is Jo with his mom (Lillian) (left) and 'Granny' (Catherine Wetzel) after basic training while home on leave.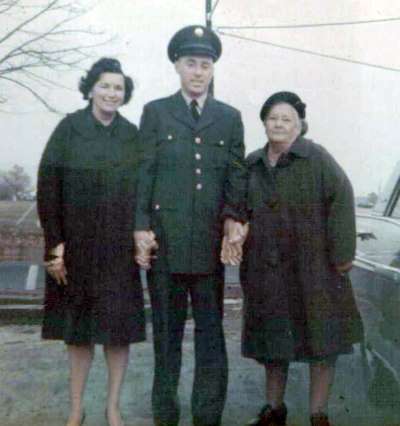 PFC Wetzel started his tour of Vietnam on May 8, 1966 and was killed in action 21 days later during the battle of LZ 10 Alpha. On 10 May, the 3rd Brigade of the 25th Infantry Division launced Operation Paul Revere I. This was essentially a border surveillance operation in the vicinity of the Chu Pong Mountain, Duc Co, and Plei Me Special Forces Camp. There were three major contacts during Phase III of the operation. The first two phases of the operation has been completed by May 17 without any enemy contacts. The largest of the Phase III contacts, the one in which Jo was killed, took place from May 28 to May 31, 1966.

During that period, the 2nd Battalion, 35th Infantry Regiment and A Company, 1st Battlion, 35th Infantry, were heavily engaged throughout the period with elements of the 33rd and 66th North Vietnamese Army (NVA) Regiments, resulting in 161 NVA KIA (Confirmed body count). The United States lost 20 men killed in action and many wounded. Learn about the 20 men killed and their story at LZ 10 Alpha.

Below is the local paper's article about the circumstances surrounding PFC Wetzel's death and the posthumous award of the Bronze Star for Valor for his action in taking out an enemy machinegun emplacement.
PFC Walter Joseph Wetzel is buried in Cypress Hills National Cemetery, Brooklyn, Kings County, New York. He is buried with his parents and sister Patricia. Visit their memorial page to see the family markers to include that of Jo's father, also a veteran who served in the Navy during World War II.

Jo's marker is shown below.
-- The Virtual Wall, 05/29/2013