During the Vietnam War there was no overriding reason to keep close track of names of the men and women who died as a result of military service in the war zone. A decade after the withdrawal of US forces, the Vietnam Veterans Memorial was approved for construction. The service branches went back through their records to identify our dead by name.
Inevitably some men who should have been named on the "Wall" were not. Over the years additional names have been inscribed on the Wall - some were men who died after the war as a result of wounds received in the war or from disease or illness, and others were men whose names were overlooked in earlier years.
These are the 3 men who were added to the memorial this year:
US Army SGT John Whitson arrived in Vietnam on September 8, 1968. On February 19, 1969 he was admitted to a hospital in Vietnam and placed on the seriously injured list a month later. On March 28, 1969 he was transferred to Fort Hood, TX where he died on April 4, 1969.
SGT Whitson's mother began her quest to add her son's name to The Wall in 1987 with Senator Phil Gramm (TX).
The Department of Defense approved having his name etched on the Wall during May 2017, along with 2 other names. His name was etched at Panel 32W, Line 58 just above PFC Charles Foulks, Jr who was killed February 19, 1969 and listed on Line 59.
Had Whitson's name been included in official records as a Vietnam Combat Area casualty at the time of his death before the Wall was built, it may have been om Panel 27W, between CPL William D Tyron (KIA 4 April 1069) and CPL David B Anderson (KIA 5 April) on Line 14.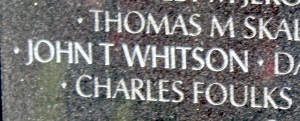 ---
SGT John Terrell Whitson is buried with his mother Alice R. Whitson (1921-2001) and his father Charles Edward Whitson (1921-1986) in Cedar Grove Cemetery, Trinity, Texas.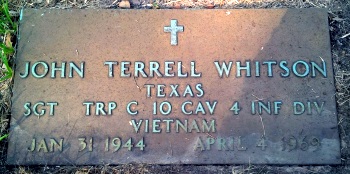 ---
- - - The Virtual Wall, May 7, 2017