John Bowers Worcester
Lieutenant Commander
VA-195, CVW-19, USS BON HOMME RICHARD
United States Navy
23 April 1941 - 08 December 1975
Big Rapids, Michigan
Panel 02E Line 126
The database page for John Bowers Worcester
27 Apr 2005
The U.S. Naval Academy Class of 1963 honors John Worcester and the other twelve fallen classmates on the Wall at its website . Please visit "Last Call".
I was John's roomate and friend at the Naval Academy. I miss him.
Stephen Coester
USNA63 Webmaster
scoester@cfl.rr.com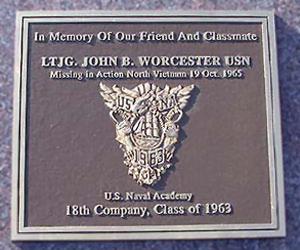 A Note from The Virtual Wall
On 19 Oct 1965 a section of A-4s from VA-195 embarked in USS BON HOMME RICHARD was tasked with an armed recon mission between Vihn and Thanh Hoa to the north. Then-LTJG John Worcester was flying as wingman in A-4C BuNo 148584. Worcester failed to join on his lead following an attack on a bridge some 35 miles southeast of Thanh Hoa and 20 miles inland. Although his lead retraced his route three times and was joined by other aircraft for the search, nothing was found - Worcester and his A-4 had simply disappeared.
Although BON HOMME RICHARD had been in the combat zone since May 1965, LTJG Worcester had joined VA-195 only a few weeks earlier and was flying his 14th mission when he disappeared. He was carried as Missing in Action, and was twice promoted while in that status, until the Secretary of the Navy approved a Presumptive Finding of Death on 08 Dec 1975. As of 27 Apr 2005 his remains have not been repatriated.
---
With all respect
Jim Schueckler, former CW2, US Army
Ken Davis, Commander, United States Navy (Ret)
Last updated 08/10/2009