C-123 Down!
On 6 March 1968, the United States lost 5 fixed-wing aircraft to hostile fire:
F-100D 56-3269, 510th TFS, 1Lt W V Tomlinson (picked up), SVN
F-100D 55-3587, 90th TFS, Capt C D Sissell (picked up), SVN
F-105D 62-4336, 333rd TFS, Capt F E Peck (picked up), Laos
A-6A 152922, VA-75, LT R C Nelson and LT G L Mitchell (both KIA), NVN
C-123K 54-0590, 311th ACS, SVN
The C-123 Provider was a workhorse thoughout the Vietnam war; it carried everything from livestock to troops, and this one had troops and supplies being transported from Hue/Phu Bai to the Marine combat base at Khe Sanh. As the aircraft approached for landing the runway was fouled by a VNAF light aircraft, forcing the transport into a low-altitude go-around for a second approach. As it circled the airfield it was hit by ground fire in one turbine engine (the aircraft had two reciprocating and two jet engines). The pilot, Lieutenant Colonel Frederick J. Hampton, advised that he was returning to Danang but a few moments later the aircraft spiralled into the ground, exploded, and burned in an unsurvivable crash. The crash site was outside the defensive perimeter in territory firmly controlled by the North Vietnamese Army and no ground search and rescue efforts were possible. Airborne fly-bys brought no indications that there were any survivors.

Ground troops from Echo Company, 2/3 Marines, reached the site of the crash on 25 March, retrieving human remains, dog tags and other identification. Additional search parties went back on 26 April, 24 June, and 3 July, and on each occasion retrieved additional remains and identifying materials. The last search party demolished the remaining wreckage prior to their departure.

That much is agreed - but the number of servicemen aboard the aircraft still is an open question. One of the men aboard was a civilian war photographer for Newsweek, Robert Ellison. Ellison had graduated from the Western Military Academy, and that school's newspaper had articles about his life and death in March 1968 and May 1969:
"He was returning to Khe Sanh in a plane with 48 Marines when it was hit by enemy ground fire and crashed in flames."

Published in the WMA "Shrapnel", March 1968
"He was covering the siege of Khe Sanh for Newsweek in South Viet Nam when he was killed on March 6, 1968, with 48 Marines when their plane was shot down by enemy fire."

Published in the WMA "Shrapnel", May 2, 1969
Both quotes from here
However, the viethero.com site says that
"On March 6th, 1968 a C-123 aircraft was shot down as it was trying to land at Khe Sanh Combat Base. All 44 passengers and the crew of three were killed when the plane crashed."
and Chris Hobson's "Vietnam Air Losses" says that
"All 49 on board, including the five crew, 44 US Marines, and a civilian photographer, were killed in the crash."
The Plane Crash Info site agrees with Hobson as to casualties - 4 crewmen and 45 passengers - but while Hobson says the aircraft was hit in the port turbojet the Plane Crash site says it was "hit in the right turbine".

As noted above, the C-123 is the only 6 Mar 68 fixed-wing loss in South Vietnam which resulted in casualties, yet the casualty data base contains 56 records for servicemen who died in Quang Tri Province on 06 Mar 1968 as the result of a fixed-wing aircraft shootdown. Of the 56, there are 6 USAF personnel (four coded as aircrew and two as passengers), 49 Marines, and one Navy Corpsman. It is possible that some of the casualties are miscoded or that they died in the crash of a VNAF aircraft, but those possibilities seem remote.

The viethero.com site says "Only 19 of the 47 aboard could be identified. The remains of the rest were buried here at Jefferson Barracks near Saint Louis." If there were only 47 men on board and 19 were identifed, why does the Jefferson Barracks memorial list 34 military personnel and one civilian? Two men known to be aboard the aircraft (USAF Sergeants Noel L. Rios and William F Anselmo, passengers) are listed as "Body not recovered".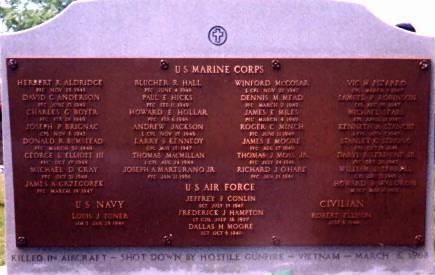 If we start with 57 men on board - the 56 servicemen recorded in the casualty database and the civilian Robert Ellison - the numbers come closer to working out properly:
57 total less two "Body not Recovered" is 55 recovered or identified
55 less 19 positive identifications is 36 unknowns
36 unknowns less 35 names on the memorial stone leaves one.
Who is that one? We don't know ... but we are reasonably sure that the men listed in the table below are the men who died in the C-123 crash at Khe Sanh on 6 Mar 1968:

15TH AERIAL PORT SQD
SSGT William Anselmo
SSGT Noel Rios

311TH ACS
SGT Jeffrey Conlin*
LTC Frederick Hampton*
1LT Ellis Helgeson
SGT Dallas Moore*

A BTY, 1ST BN, 13TH MARINES
PFC George Elliott*
CPL Larry Kennedy*
CPL Vic Pizarro*

1ST BN, 26TH MARINES
PVT Domingo Rodriguez
PFC Thomas Williams

A CO, 1ST BN, 26TH MARINES
LCPL Louis Taylor
CPL William Terrell*
LCPL Robert Vickers

B CO, 1ST BN, 26TH MARINES
PFC Willis Beauford
CPL Joseph Brignac*
LCPL Winford McCosar*
CPL Ronald Ryan
PFC Herbert Aldridge*

C CO, 1ST BN, 26TH MARINES
CPL Stanley Strong*

D CO, 1ST BN, 26TH MARINES
PFC Dennis Mead*

H&S CO, 1ST BN, 26TH MARINES
PFC Blucher Hall*
PFC David Anderson*
PFC Charles Boyer*
PFC James Grzegorek*
PFC Ralph Higgs
PFC Howard Hollar*
PFC Robert Horvath
PFC Roger Minch*
PFC Thomas Moss*
PFC Ronnie Presley
PFC John Russell
CPL Michael Sears*
MSG Howard Waldron*
PFC Stephen West
PFC Donald Bumstead*

2ND BN, 26TH MARINES
PFC George Beale
LCPL John Clark
CPL Samuel Robinson*
PFC James Taylor

F CO, 2ND BN, 26TH MARINES
LCPL Andrew Jackson*

G CO, 2ND BN, 26TH MARINES
PFC Paul Hicks*
PFC Harry Latshaw
PFC Joseph Marturano*
PFC James Moore*
PFC Richard O'Hare*
PFC Daryl Terhune*

H CO, 2ND BN, 26TH MARINES
CPL Dennis Medeiros
PFC James Miles*
LCPL Hollis Williams

H&S CO, 3RD BN, 26TH MARINES
HN Louis Toner*

K CO, 3RD BN, 26TH MARINES
LCPL Thomas MacMillan*
LCPL Kenneth Stanciu*

L CO, 3RD BN, 26TH MARINES
PFC David Wienckoski

H CO, 2ND BN, 3RD MARINES
LCPL James Smith

H&S CO, FLSG ALPHA
PFC Michael Gray*

WAR PHOTOGRAPHER
Robert Ellison*
Those marked with an asterisk were interred in a common grave (Plot 81 0 327-329) on 23 Nov 1968. One other, PFC James O. Taylor of St. Louis, rests at Jefferson Barracks; he was buried in Plot E 0 375 on 17 Sep 1968.