Duc Phong
August 1969

Photography of a battle

The III Corps Mobile Strike Force was known by several names: its Special Forces identifier, B-36; 3rd Mobile Strike Force; and Mike Force. The 3rd MSF was made up of indigenous people, trained by U. S. Army Special Forces, equipped and supported by the U. S. Government, and led by U. S. advisors as well as their own officers. Although many of the 3rd MSF troops were Cambodians, others were mountain tribesmen and Laotians; some were pure mercenaries, but most were driven by their opposition to the Viet Cong, North Vietnamese, Pathet Lao, and Khmer Rouge.
In August 1969, 3rd MSF was turned loose on elements of the 5th NVA Division operating in the vicinity of Duc Phong. Phil Gonzales, a combat photographer for Green Beret Magazine accompanied the 3rd MSF. He has provided these photographs for publication on The Virtual Wall in connection with his memorial to SP4 Robert C. Schell , a Special Forces soldier he met on the battlefield. Schell was killed in action on 24 August 1969; Mr. Gonzales' photographs set the scene for his death. This material is copyrighted by Mr. Gonzales.
---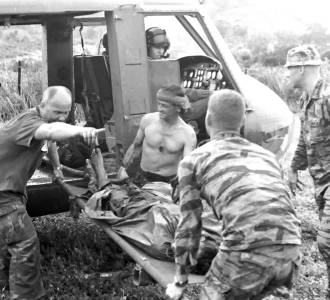 Unloading a wounded striker.
Bull Run I, 3rd Mobile, Aug 69 near Duc Phong III Corps
---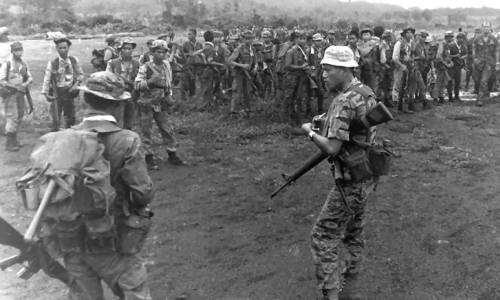 Striker companies prepare to relieve an embattled Mike force battalion, Aug 69
---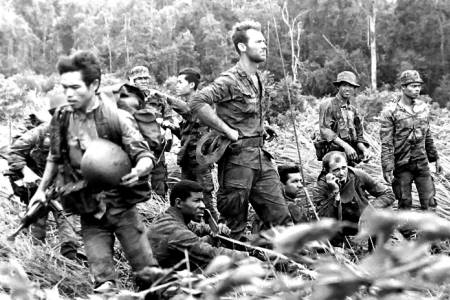 3rd Mobile Combat operations against 5th NVA Division, III Corps, Aug 1969
---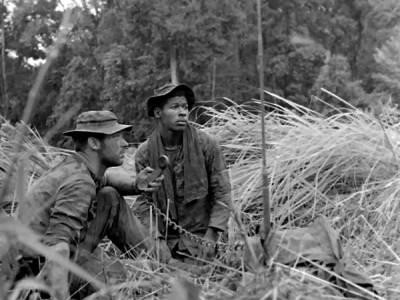 Calling in reinforcements, 3rd Mobile near Duc Phong, III Corps Aug 69
---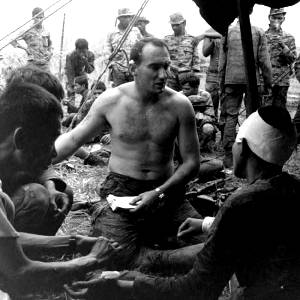 Mike Force Senor Medic McKeon attending to combat wounded, Aug 69
---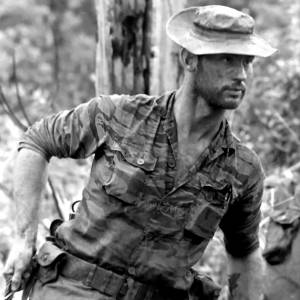 Special Forces Advisor with 3rd Mobile during battle with 5th NVA Division
---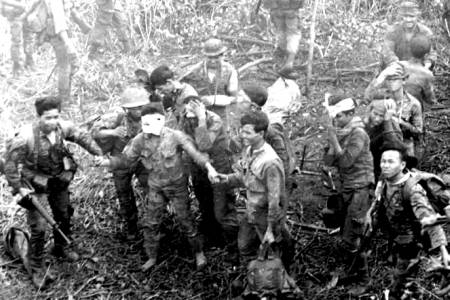 3rd Mobile strikers preparing to board 117th Dustoff for medevac, Aug 69 near Duc Phong
---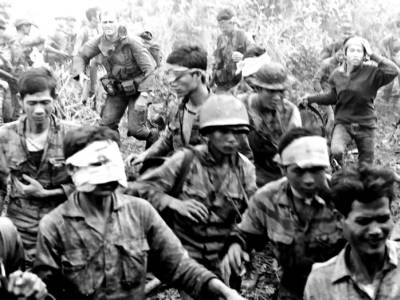 30 KIA, 140 WIA evacuated during 3rd Mobile battle against 5th NVA Division
---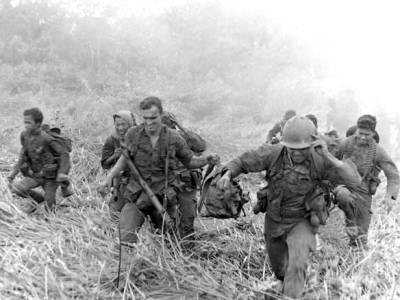 3rd Mobile Strike Force combat action near Duc Phong Aug 1969
---

View from a 117th Assault Helicopter Company (Pink Panthers) UH-1,
spotting a smoke marker on 3rd Mobile LZ near Duc Phong Aug 69
---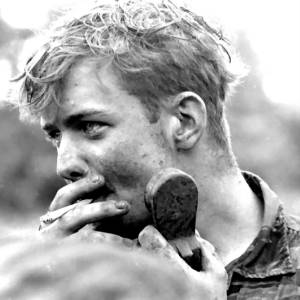 Special Forces advisor on the radio - combat action with 3rd Mobile Aug 69
---

Pinned down by mortar and small arms fire, 3rd Mobile Sept 69
---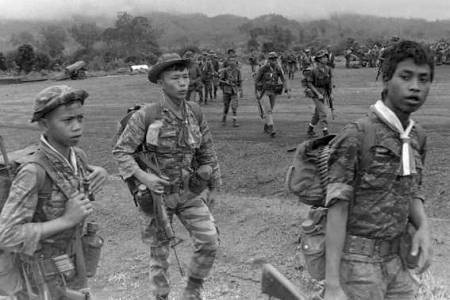 3rd Mobile Cambodian Strikers assembling for combat operations, Aug 69
---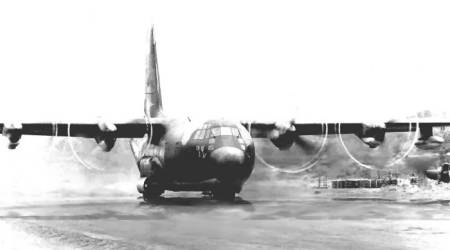 C-130 Landing at Duc Phong to support B-36 Mobile Strike Force operations Aug 1969
---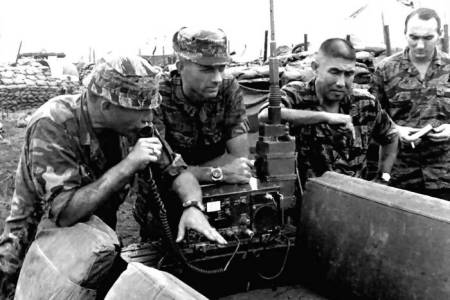 Billy Waugh, Major Mize and medic, 3rd Mobile in contact with 5th NVA Division, Aug 69
---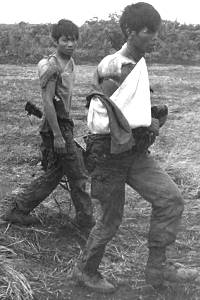 Walking wounded arriving from medevac, 3rd Mobile, Aug 69
---

Chinook from 1st Cav evacuating 3rd Mobile.
The pilot was killed by a B-40 moments later.
A Note from The Virtual Wall
The CH-47B (tail number 67-18473) belonged to C Company, 228th ASHB, and was one of a flight of three aircraft evacuating 3rd MSF personnel. As the aircraft lifted off, NVA soldiers fired two B-40 rounds which penetrated the windscreen but failed to explode. One passed through the aircraft commander's chest, killing him instantly (CW3 Dean R. Lange). The copilot, Captain Larry D. Mohler, was wounded by shrapnel but was able to maintain control of the aircraft long enough to reach Landing Zone Caldwell where a safe landing was made. One other crewman and two MSF troops were injured by the B-40s.