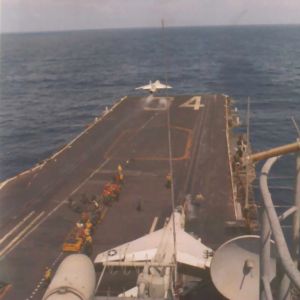 USS ORISKANY (CVA-34)
USS ORISKANY was a TICONDEROGA class aircraft carrier; her keel was laid in the Brooklyn Naval Shipyard on 01 May 1944. She was launched on 13 Oct 1945, but construction was suspended and she was not completed until 1950. ORISKANY was commissioned on 25 Sept 1950 and after shake-down and training cruises departed for service in the Mediterranean Sea. From late 1952 until May 1953 ORISKANY served off Korea, where her air wing conducted air operations against North Korean and PRC forces. On 17 Nov 1952, her F-9F PANTHERs engaged in what is believed to be the first multi-jet aerial dog-fight in naval history; 4 F-9Fs engaged 7 MiG-15s, shooting two down and damaging a third.

After the end of the Korean War, ORISKANY became familiar to American movie audiences when The Bridges of Toko Ri, starring William Holden and Mickey Rooney, was filmed aboard her. She underwent several modernization overhauls and conducted routine operations throughout the Pacific until she left San Diego on 05 April 1965 for her first Vietnam deployment.

ORISKANY launched her first combat sorties on 08 May 1965, flying more than 12,000 combat sorties before returning to San Diego on 16 Dec 1965. She made a quick turn-around and departed for her second Vietnam deployment in late May 1966. She conducted combat operations from her arrival on Yankee Station until 26 Oct 1966.

At 0728 26 October fire broke out in a forward magazine and raged through 5 decks, claiming the lives of 44 sailors. Many of those killed were veteran combat pilots who, a few hours earlier, had flown on raids over Vietnam. Serious damage to the carrier ended ORISKANY's WestPac deployment and following limited repairs in Subic Bay (RP) she returned to San Diego on 03 Nov 1966. Four months later ORISKANY departed the San Francisco Naval Shipyard and began preparations for a return to Yankee Station, departing for WestPac on 16 June 1967.

ORISKANY was on station when USS FORRESTAL (CVA-59) had a major shipboard fire on 29 July 1967 and was one of the first on the scene with assistance. Medical personnel and fire-fighting gear were helo'd from ORISKANY to FORRESTAL while the latter's fires were still out of control, and the returning helos brought FORRESTAL's dead and injured aboard ORISKANY.

---

At the time of the 1966 fire, ORISKANY carried Carrier Air Wing 16 and its assigned squadrons:
Fighter Squadron 111 (F-8E)
Fighter Squadron 162 (F-8E)
Attack Squadron 163 (A-4E)
Attack Squadron 164 (A-4E)
Attack Squadron 152 (A-1H)
Heavy Attack Squadron 4 Det G (A-3B)
Airborne Early Warning Squadron 11 Det G (E-1B)
Photo Squadron 63 Det G (RF-8G)
Helicopter Support Squadron 1 Det G (UH-2)
VAP-61 Det (RA-3B)
The fire started when a magnesium flare ignited in a ready ammo locker near frame 44 in the forward section of the ship. Shipboard fires are not uncommon, and ORISKANY's crew responded promptly and properly to this one. However, the primary firefighting tool available in the magazine area was an inexhaustable supply of salt water - but water alone cannot extinguish magnesium fires. The heat of the flare ignited other ordnance, including 5" ZUNI rocket warheads.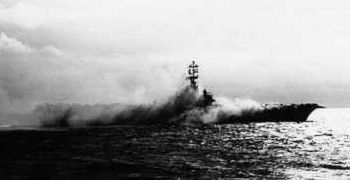 Heavy, incapacitating smoke was rapidly drawn into the ship's ventilation system, while fireballs from exploding ordnance ignited secondary fires among fully fueled aircraft in Hangar Bay 1. The combination of toxic smoke and scattered secondary fires blocked passageways and caused numerous casualties. The Air Wing's officers were particularly vulnerable, since many of them occupied quarters in the immediate vicinity of the fires and were unable to escape to the hangar bays or flight deck.
For some, the only escape route was downward into the lowest decks of the ship - but they found that the unending stream of salt water being sprayed above them drained downwards with them. In one instance, a ship's company officer who was a qualified diver donned scuba gear and swam down a vertical trunk to rescue a seaman trapped in a 7th-deck pump room. By the time the fires were controlled and extinguished, dozens of ORISKANY's Air Wing and crew were dead and hundreds more injured.

The body of Lieutenant Commander Omar R. Ford, USN,
one of 44 officers and men who lost their lives in the 26 October fire,
is committed to the deep from Oriskany's flight deck
during memorial services at sea in the Western Pacific,
06 November, en route to San Diego, California.

The following officers and men of ORISKANY died in or as a result of the fires that swept her forward compartments on 26 October 1966:
CARRIER DIVISION 9 Staff
CDR Jack H. Harris
USS ORISKANY CVA-34 Ships Company
CDR Richard E. Donahue
CDR Harry W. Juntilla (DOW 10/31/66)
LCDR William J. Garrity Jr.
LCDR Walter F. Merrick
LCDR Omar R. Ford
LT Frank M. Gardner
LTJG Dewey L. Alexander
LTJG Ramon A. Copple
LTJG James B. Hudis
LTJG James A. Kelly Jr.
LTJG Franklin M. Tunick
BM3 Donald W. Shanks
BM3 Alvin M. Shifflett Jr.
SN Robert L. Dyke
SN James K. Gray
SN James A. Lee
FN William Walling
AA Greg E. Hart
Air Wing and Squadrons

CARRIER AIR WING 16 Staff

CDR Rodney B. Carter
LT Lloyd P. Hyde
AIRBORNE EARLY WARNING SQUADRON 11 (VAW-11)
LTJG William R. Clements
HEAVY ATTACK SQUADRON 4 (VAH-4)
CDR George K. Farris
LCDR James A. Smith
LT John F. Francis
ATTACK SQUADRON 152 (VA-152)
CDR John J. Nussbaumer
AZAN David A. Liste
ATTACK SQUADRON 163 (VA-163)
LCDR Clement J. Morisette
LT Clarence D. Miller
LTJG Thomas E. Spitzer
ENS Ronald E. Tardio
ATTACK SQUADRON 164 (VA-164)
CDR Clyde R. Welch
LCDR Daniel L. Strong
LTJG James L. Brewer
LTJG William A. Johnson
FIGHTER SQUADRON 111 (VF-111)
LCDR Norman S. Levy
LTJG Cody A. Balisteri
LTJG William G. McWilliams, III
FIGHTER SQUADRON 162 (VF-162)
ENS Charles W. Boggs
HELICOPTER SUPPORT SQUADRON 1 (HC-1)
LT Josslyn F. Blakely, Jr.
LT Julian D. Hammond, Jr.
LTJG Gerald W. Siebe
LTJG James R. Welsh
ENS Daniel O. Kern
The ORISKANY was named after the Revolutionary War battle of Oriskany, New York. Today, the village of Oriskany has on permanent display the starboard bow (right front) anchor from USS ORISKANY. The anchor is located in Trinkaus Park. Each of the forty-four posts that surround the anchor bears the name of one of the crewmen who died off the shores of Vietnam.

---
The Virtual Wall's USS ORISKANY Index
Selected web sites for the
USS ORISKANY (CVA-34)
ORISKANY Vietnam Home Page
The Mighty "O"
US Navy History - CVA-34
Stan's ORISKANY Site
NavSource Online

www.VirtualWall.org
With all respect
Jim Schueckler, former CW2, US Army
Ken Davis, Commander, United States Navy (Ret)
Channing Prothro, former CAP Marine
Last updated 11/01/02