Russell Monroe Amoss
Specialist Four
A CO, 2ND BN, 47TH INF RGT, 9 INF DIV
Army of the United States
14 September 1947 - 31 January 1968
Mount Airy, Maryland
Panel 35E Line 085
The database page for Russell Monroe Amoss
01 Dec 2001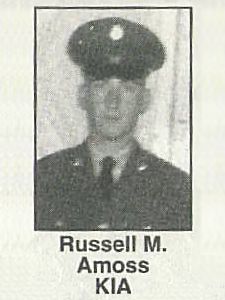 Specialist 4 Russell M. Amoss, 20, of Mt. Airy, Md., an Army Infantry squad leader was killed in Vietnam by metal fragments from an explosion.
Specialist Amoss, a 1965 graduate of Glenelg High School and former varsity baseball pitcher was the son of Mr. and Mrs. Stanley M. Amoss. He was drafted in November 1966, and had been in Vietnam since May 1967.
Taken from the Carroll County Times
Memorial Day edition, 1989
A memorial from a fellow Carroll Countian,
W. Lemmer
lemmer2@msn.com

07 Oct 2005

1st Squad, 1st Platoon, Co A, 2/47th Infantry

Amoss was my squad leader when he was killed in the early morning hours of January 31st, 1968 at the very beginning of the TET offensive. I must take exception to the article that said that he was killed by "metal fragments from an explosion". I was driving the armored personnel carrier (APC) when we were ambushed by small arms fire at roughly the intersection of highways 15 and 36 in the village of Ho Nai near Long Binh. He was killed by small arms fire from an AK47. Amoss was my best friend in Nam. He loaned me every MPC (military payment certificate) he had so I could go on R&R to Australia in December of 1967. I had the pleasure of meeting his sister and several other family members at his gravesite in approximately 1993. I still miss him terribly, I will never forget him, he was a great friend and a very exceptional and professional soldier even though he was drafted. He took his duties and responsibilities very seriously. A professional in every way.

"Ski"

Jerry Jaworski
Longmont Colorado
829 Buchanan Lane, Longmont Co 80501
skeeter829@hotmail.com

Notes from The Virtual Wall
The 2nd Battalion, 47th Infantry, lost seven men on 31 Jan 1968. Six of the seven can be associated with the ambush at Ho Nai; CPL Robert Huie of Bravo 2/47 is the exception. The seven men were
A Company:

SP4 Russell M. Amoss, Mount Airy, MD
PFC Robert M. Henderson, Folcroft, PA
PFC Juan B. Morales-Mercado, Bayamon, PR



B Company:

CPL Robert A. Huie, Oneonta, AL



HQ Company:

SSG Robert W. Schultz, Clinton, IA (Dist Svc Cross)
SP4 Charles A. Kronberg, East Detroit, MI
PFC James M. Vielbaum, Hartford, WI
As noted by Mr. Jaworski, the TET Offensive had just begun and fighting was widespread. According to Army information, five of the seven died in Bien Hoa Province northeast of Saigon (Long Binh is in Bien Hoa Province) but the other two - SP4 Amoss and PFC Vielbaum - are placed in Kien Hoa Province, well south of Saigon. Even without Mr. Jaworski's first-hand knowledge it would seem unlikely that these two men were in Kien Hoa.
The point-of-contact for this memorial is
a fellow Carroll Countian,
W. Lemmer
Lemmer2@msn.com
1 Dec 2001
---
With all respect
Jim Schueckler, former CW2, US Army
Ken Davis, Commander, United States Navy (Ret)
Last updated 10/10/2005