01 Feb 2003
The HMM-363 Command Chronology for 12 May 1967 contains the following incident report:
"At approximately 1700H, YZ-78 suffered a direct hit by enemy mortar fire shortly after lifting from a landing zone at YD 117692. The aircraft crashed and burned killing the pilot and crew chief and injuring the co-pilot and aerial gunner."
The report refers to UH-34D BuNo 147190 which was conducting a fuel resupply mission to a landing zone at Con Thien. The LZ came under attack by rocket fire as the aircraft finished off-loading 55 gallon fuel drums. The UH-34 lifted off in a southeasterly direction, but had attained only about 100 feet in altitude before it was hit in the port fuselage by a rocket. The aircraft crashed and burned about 80 meters distant from the LZ. The enemy gunners shifted their aim to the crash site, firing approximately 30 more rockets. As noted by LZ personnel, casualties would have been much higher had those rockets impacted within the LZ rather than 80 meters distant.

Two men died in the crash, Captain Richard L. Basinger (pilot) and Corporal John W. Jackson (crew chief); the copilot, George Hadzewycz, and the door gunner, Ronald Hartline, survived with injuries.

Additional information is available on the
Pop-A-Smoke site


---

At 24 years of age, Captain Richard Louis Basinger, selflessly made the supreme sacrifice in service to his country, and to his fellow Marines. From September 1966 to May 12, 1967, he flew over 350 combat missions in the Republic of Vietnam as a pilot in the United States Marine Corps UH-34D helicopter squadron HMM-363. His son, Mark Basinger, maintains the site listed below as a tribute to a true American hero, a courageous patriot, a faithful comrade and friend, a distinguished Marine Corps officer, a beloved son and brother, a loving husband, and a proud father.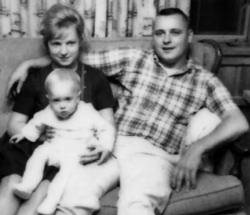 Basinger with wife Nelda Sue and son Mark
Visit
Mark Basinger's Memorial


---
Captain Richard L. Basinger is