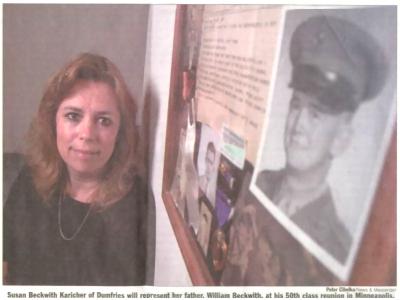 An unforgotten hero
Scholarship created in memory of local Marine

By EMILY BROWN
ebrown@potomacnews.com

Susan Beckwith Karicher remembers the knock on the door of her Woodbridge home.

A man in uniform handed her mother a Western Union Telegram dated March 10, 1968. It began 'I deeply regret to inform you....'

Her father, William Beckwith, a 31-year-old Marine major in Vietnam, was in a jeep that activated a land mine planted by the Viet Cong, according to a letter she recently received. He and eight men died on their way to the village of Hoi Anh.

As a 9-year-old in the late 1960s, no one spoke about the tragedy she and her family suffered, she said.

'There was no counseling, no therapy, no bonding,' Karicher said. 'It was like deal with it and move on.'

Karicher, who lives in Dumfries and works at American College of Osteopathic Internists in Bethesda, Md., knew little of what her father was doing in Vietnam. She pulls memories from her childhood and pictures. Her brother Bob Beckwith, 6-1/2 at the time, remembers even less. He can picture himself at the pool in Quantico with his father. But the other memories resulted from his father's death.

Stuttering became a problem 'right after I had the understanding my father wasn't coming back,' said her brother, who lives in Stafford.

During show and tell, he told his class his father died and broke down in tears.

'Those things I remember at the time, but not a lot associated with actually picturing him with us,' he said.

But stories of their father, pictures and memories, have suddenly surfaced.

Her father's high school reunion committee called Karicher at work in late February. Bruce Eide, a member of her father's graduating class, offered Beckwith's name to headline a scholarship presented to their school in Minneapolis on behalf of their 50th class reunion. Beckwith was the only classmate who died in the Vietnam War, Eide said.

Through e-mail contact with Eide, Karicher has connected with some of her father's childhood friends and war buddies. The stories and pictures they've shared are invaluable, she said.

'I've found out more in the last month than I've known in 35 years,' Karicher said. She found out her father was a Combined Action Program marine, a group that submersed themselves in the Vietnamese culture in order to help protect South Vietnamese from attacks from North Vietnamese or rebuild their villages after attacks, she said.

Karicher went to a CAP Web site and asked the Web master to link her e-mail address to her father's name. Within a day, she connected with a man whose father died from the same bomb as her father. Through networking she found Bill Wilkenloh, a supply officer who asked Beckwith what types of books he wanted, hours before he took off on his fatal jeep ride.

'[My father] asked him for history books,' Wilkenloh told Karicher. 'I know that's true because he was a history buff.'

In August, Karicher, her brother and mother will fly to Minneapolis for the reunion. Her father's best friend is preparing a slide show for the family with pictures from his childhood with Beckwith. The family will also tour Roosevelt High School.

'For them to take their personal money, effort and time to go through all this for me is very touching,' Karicher said. The experience, she said, 'stirs up a lot of emotions my brother and I put to rest.'

Eide, now living in Atlanta, said he and Beckwith shared a few classes at Roosevelt and had mutual friends. He didn't have contact with Beckwith after they graduated, but heard of his death at the class's 25th reunion in 1979. A few years later on business in D.C., Eide visited the Vietnam Memorial and found Beckwith's name.

He's happy to see Beckwith honored and glad Roosevelt students will receive support for college, he said, but he is most pleased with the connections his classmate's children have made.

'The best part about the whole thing,' Eide said, 'is Susan and her brother getting to know a lot about their dad that they didn't know.'

For Karicher and her brother, the scholarship restores hope that other veterans will be similarly honored.'You're not always forgotten,' she said.

---
Copyright 2004 Potomac News
Page D1, 23 Apr 2004
Story by Emily Brown
Features Reporter, (703) 878-4650
Potomac News and Manassas Journal Messenger
ebrown@potomacnews.com
Photo by Peter Cihelka, News-Messenger staff

Used with permission