Joel Bernstein
Lance Corporal
E CO, 2ND BN, 4TH MARINES, 3RD MARDIV
United States Marine Corps
30 November 1946 - 25 August 1966
Philadelphia, PA
Panel 10E Line 035
The database page for Joel Bernstein
6 Aug 2002

I am Joel's sister, his only sibling, and the only remaining nuclear-family member.

Usually I have plenty to say,
a bundle of laughs every minute,
but when my brother died
I lay down by his coffinside
and buried
my funny-bone in it.

I miss you more and more as the years pass, and I grow closer to your eternal home; I will definitely be catching up with you before too long!

From his sister,
Arlene Bernstein
ferndeblanc@aol.com
---

Lance Corporal Joel Bernstein was killed in action during his second tour in Vietnam. He was photographed with his father while home on leave between the two tours.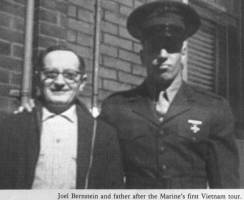 Photo courtesy of Mauri Presser
01 Sep 2002

The following article is taken from The Philadelphia Daily News, special supplement entitled 'SIX HUNDRED AND THIRTY,' October 26, 1987. The special supplement was issued in conjunction with the dedication of the Philadelphia Viet Nam Memorial.
"Bernstein played many high school sports, but his favorite activity was swimming. He was on the gymnastics team at South Philadelphia High School and worked as an upholsterer's apprentice before enlisting in the Marine Corps in December 1963. Bernstein told family and friends he felt military service was the "right road" for him. The lance corporal had assignments as a rifleman, messman, guard, recreation assistant, and ammunition carrier and had strong feelings about the U.S. role in Viet Nam. "Don't you supposed intellectuals believe that all this publicity and pity for these poor oppressed American youth, suffering from clean underwear, good food and a warm bed to sleep in is sort of directed to the wrong group?" he wrote in a letter to a magazine that had been critical of escalating American involvement in the war. "What about the boys -- I refer to age when I say boys -- over here in Viet Nam being killed, and maimed for life because they have the gumption to come and fight ... I can only hope that my mother never receives one of those fatal telegrams." Berstein later returned to Viet Nam for a second tour of duty, and was assigned to Company E of the 2nd Battalion, 4th Marines, 3rd Marine Division. He died in Quang Tri Province on August 25, 1966, at the age of 19. Joel Bernstein Post 791 of the Jewish War Veterans in Holme Circle was named in his honor. He was survived by his parents and a sister."
SEMPER FIDELIS, MARINE!
From a native Philadelphian and Marine,
Jim McIlhenney
christianamacks@earthlink.net
The point-of-contact for this memorial is
his sister,
Arlene Bernstein
ferndeblanc@aol.com
6 Aug 2002
---
With all respect
Jim Schueckler, former CW2, US Army
Ken Davis, Commander, United States Navy (Ret)
Channing Prothro, former CAP Marine
Last updated 09/02/2002