7 Apr 2005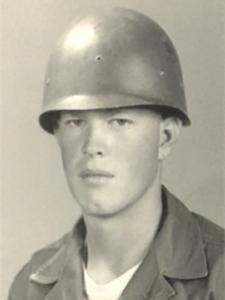 Walter Rogers Blalock was born in Tucson, Arizona. He was the 4th child born to Ulmont U. and La Vern Rebecca Rogers Blalock. His father was in Civil Service. After Walter was born, the family moved to Del Rio, Texas where his father worked at Laughlin Army Air Base. In 1949, the base was deactivated and his father ranched at Barksdale, Texas, then returned to Civil Service in Hondo, Texas, and then back to Laughlin Air Force Base when it was reactivated during the Korean War. The family remained there until Mr. Blalock received a transfer to Edwards Air Force Base in California. Walter attended Boron High School, there he met his future wife, Catherine Ann Long. Mr. Blalock then transferred to Webb Air Force Base in Big Spring, where Walter finished high school in 1962 and enlisted in the U.S. Army in late 1962. Walter spent three years in Germany, re-enlisted, returned to Fort Ord, California and married Catherine in May 1966. He started his tour in Vietnam on December 27, 1966.
According the Western Union Telegram, on the date of his death his unit was in a column driving down a thoroughfare when the APC he was commanding struck a land mine, turned over, and burned. He was taken to the 24th Evacuation Hospital where he expired from his wounds on the same day.
He is remembered on the Permian Basin Vietnam Veterans' Memorial.