Leslie Von Bowman
Specialist Four
B CO, 3RD BN, 60TH INFANTRY, 9 INF DIV
Army of the United States
30 December 1947 - 01 November 1968
Wallace, Indiana
Panel 40W Line 071
The database page for Leslie Von Bowman
21 May 2007

The only child of the Uncle for whom I am named, Lex. A gentle spirit with an easy smile and a kind word. He did his duty.

From a cousin.
titan_rotc@hotmail.com

Notes from The Virtual Wall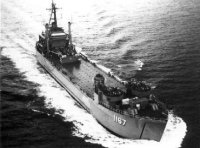 USS WESTCHESTER COUNTY (LST-1167) was one of the first Naval vessels engaged in Vietnam, departing Naha, Okinawa, on 9 August 1964, for extended operations off Vietnam in the South China Sea. In 1965 and 1966, she participated in a number of Marine lifts into Vietnam, including three amphibious landings. In late 1966 she served as the "mother ship" for MARKET TIME coastal patrol ships operating along the Ca Mau Peninsula coastal area. In 1967, she performed various duties before serving as a Mobile Riverine Force support ship in the Mekong Delta from 24 October through 26 January 1968. At that time she returned to lift duties before entering a repair availability from 16 July through 22 September, when she resumed duty with the Mobile Riverine Forces.
Tragedy struck on 1 November while WESTCHESTER COUNTY lay anchored in the My Tho River, Vietnam. Two underwater explosions ripped WESTCHESTER COUNTY, killing 25 men. The enemy mines had been attached to the hull about midship on the starboard side, rupturing berthing compartments and fuel and storage tanks. The day following the explosion, the entire Mobile Riverine Force moved from My Tho to Dong Tam.
SP4 Leslie V. Bowman was one of the 25 men killed in the explosions.
VISIT THE
USS WESTCHESTER COUNTY
and
The Virtual Wall Unit Memorial
---
With all respect
Jim Schueckler, former CW2, US Army
Ken Davis, Commander, United States Navy (Ret)
Memorial first published on 21 May 2007
Last updated 05/24/2007