Alfred Lee Brown
Corporal
C CO, 1ST BN, 3RD MARINES (BLT 1/3, 9TH MAB), 3RD MARDIV
United States Marine Corps
07 October 1947 - 10 May 1967
Philadelphia, PA
Panel 19E Line 080
The database page for Alfred Lee Brown
01 Sep 2002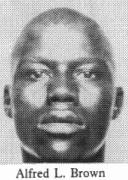 The photo and following article is taken from The Philadelphia Daily News, special supplement entitled 'SIX HUNDRED AND THIRTY,' October 26, 1987. The special supplement was issued in conjunction with the dedication of the Philadelphia Viet Nam Memorial.
"A proud young soldier who had enlisted at the age of 17, Brown signed letters home "Your Marine." The corporal, a rifleman and fire team leader, was assigned to Company C of Battalion Landing Team 1/3, 9th Marine Amphibious Brigade, in Viet Nam in June 1966. He died in Quang Nam Province on May 10, 1967. The former Benjamin Franklin High School student was 19. He was survived by his parents, three brothers and three sisters."
SEMPER FIDELIS, MARINE!
From a native Philadelphian and Marine,
Jim McIlhenney
christianamacks@earthlink.net
---
With all respect
Jim Schueckler, former CW2, US Army
Ken Davis, Commander, United States Navy (Ret)
Channing Prothro, former CAP Marine
Last updated 09/01/2002