Remembering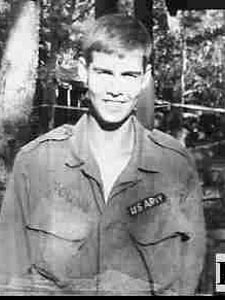 Randolph Todd Butler
Specialist Four, Army of the United States
1ST PLT, D CO, 2ND BN, 12TH INFANTRY, 25 INF DIV
From St Petersburg, Florida
01 September 1947 - 09 January 1968
Randolph Todd Butler is on the Vietnam Veterans Memorial, Panel 34E Line 005.
18 May 2005

We arrived in Vietnam together and served in the same unit, 1st Platoon, Delta Co, 2/12th. You were a true friend and fellow soldier. It was an HONOR to serve with you and call you friend.
---
A Note from The Virtual Wall
Delta 2/12th Infantry lost two men on 09 Jan 1968: SP4 Randolph T. Butler and SP4 Tyler W. Cobb of La Puente, California.


---
The point-of-contact for this memorial is
a comrade-in-arms,
Larry Bland

E-Mail may be forwarded via the
Webmaster@VirtualWall.org

The database page for Randolph Todd Butler

www.VirtualWall.org
To alpha index B
FL State Index . Panel 34E
12TH INF RGT Index
Webmaster@VirtualWall.org
24 May 2005
Last updated 09/06/2005