08 March 2002

I first met Bill in grade school at Holcomb Elementary in Detroit ... it's hard to believe that we were ever that young, long before world events would touch our lives.

You are still remembered even now by your friends and classmates from those days. And we know that you joined other old friends of ours in that distant land, like Donald Kuzilla from Redford High.

You will live on in our memories, until we meet again.


---
18 May 2002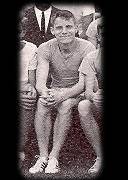 I'm glad I found this high school photo of you, Bill ... it captures that wonderful smile that was always such a big part of you.
You are also now remembered by some high school students in Saginaw, Michigan, whose inspiring teacher assigned them a project on Michigan servicemen.
Gary and I were glad we could help them to know you.
God Speed, Bill, until we meet again.

---
From an old school friend,
Katherine Helm Rose
katrose@cox.net