15 Mar 2004

Don was a career soldier from Odessa, Texas, an oilfield city near New Mexico. He was in his third enlistment when he was killed by an explosive device in January 1968. He was a platoon sergeant. He is remembered on the Permian Basin Vietnam Memorial located at Midland International Airport, Midland, Texas and by the the Ector County Vietnam Memorial. May his sacrifice not be forgotten.


---

27 Jul 2006

After researching Don for the past few years, his cousin, Ray Strange of Odessa gave me a copy of this picture which we restored.

H. Don was born in Athens, Texas and grew up in the oilfields of East Texas, West Texas and Eastern New Mexico. He was an only child, entered the Army at age 17 from Odessa, Texas when he became disillusioned with school. He served in Korea and Germany. He was married and divorced and the father of a son Gary Don.

He had completed a tour in Vietnam with the 5th Cav and had extended his tour, came home on leave. He had been awarded a Bronze Star for Valor and an Army Commendation Medal for meritorious service during his year long tour. His parents were living in Hobbs, New Mexico at the time. He had bought a little sports car when he was in Germany and he toured the country in it while on leave.

He returned to Vietnam and was killed. He was buried with full military honors in the Athens City Cemetery, Athens, Texas. He had deep family roots there. His mother died in 1979 at age 55 and his father remarried and he was killed in a farm tractor accident in 1984 in Quitman, Texas at age 69. Both parents are buried next to Don in Athens.

Don is remembered by the Permian Basin Vietnam Veterans' Memorial and efforts are being made to honor H. Don Cobb and Grover Lee Dickson, USMC, who received the Navy Cross in Vietnam, in Athens, Texas. Grover Lee is buried at the New Hope Cemetery in Athens and had roots there as well.

Many thanks to Don's cousin, Ray Strange of Odessa, and Fran Adair Bethea of the Henderson County, Texas Geneological Society for their help in honoring Don.

From a PBVVM representative,
Billy M. Brown
4015 Melody Lane, Odessa, Texas 79762
bmbrown@grandecom.net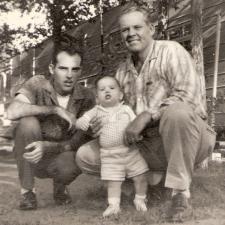 Left, with wife and son; right, with father and son.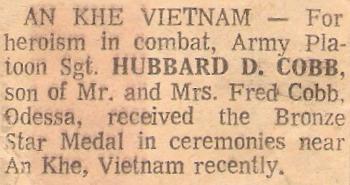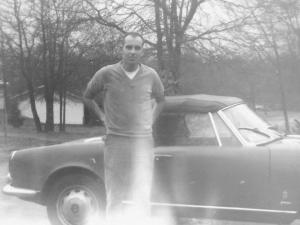 Don before returning to Vietnam, 1967