Army Pfc Dennis Debickero, 20, 2920 W. 99th St, Evergreen Park, was killed in action November 6 while on night defensive patrol, when the area he was patrolling came under mortar attack from hostile forces. Debickero was stationed within 60 miles of Bien Hoa, South Viet Nam. He was sent to Viet Nam Aug. 31, after a 30-day leave at home.
The private entered the Army March 26, 1971, and received his training at Ft. Lewis, Washington. Debickero graduated from Evergreen Park High School in 1969. He worked as a mechanic for the Chicago Motor club before being drafted.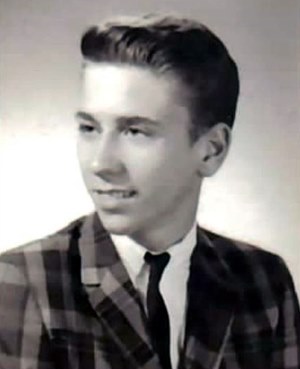 The family learned of his death Tuesday, two days after his father had received from him a birthday card with an original poem written by Dennis.
Visitation was at Lane Funeral home, 2121 W. 95th St, Chicago. Services were held at St. Bernadette's church, 93rd and Francisco, Evergreen Park, and burial in St. Mary's cemetery was on November 15, 1971
- - Information from the Suburbanite Economist 14 November 1971, page 1.
---
Preceded in death by his mother Margaret Debickero (1923-1962), he was survived by his father Leonard R. Debickero Sr. (1920-1987), step-mother Elizabeth J. "Betty" (Kachelhoffer) Debickero (1924-2009), grandmother Katharine Debicker (1901-1976), sister Nancy Neuzil, step-sister Kathleen Engelmann (1950-1989), and half-brother Leonard R. Jr.
Marker for Dennis in Saint Mary Catholic Cemetery.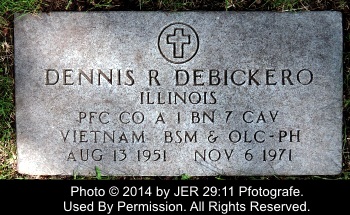 ---
Read more about Dennis in Peggy Scanlan's (Dennis' niece) Veteran's Day, November 11, 2013, tribute here.
---
Dennis was the only one killed from his company the morning after the night patrol. His unit, at about 07:20 hours, while still in their night defensive position, came under mortar attack from a hostile force. He was hit with the fragmentation from the mortars. According to his Company Commander, Dennis was killed instantaneously.
His Commander, CPT Gregory L Sharp, wrote to the family: "There are no words to adequately express the sorrow that is felt by each and every member of this command because of the death of your son. Dennis was an exemplary soldier as well as an outstanding individual. The news of his death came as a shock to those of us who knew him. His performance of duty reflected nothing but the greatest possible credit upon himself and Company A and his loss will be keenly felt by this organization. It is not possible to replace him or his abilities, but he leaves us with a memory of inspiration from which we can draw strength for the struggle that lies ahead. I am proud to have known him and consider it an honor to have served with him."
A memorial service was held for Dennis at the unit's base camp with the officers and enlisted men of Company A in attendance. Even though Dennis was only in Vietnam for 68 days, he was awarded a Bronze Star for his Meritorious Service during that period, as well as a Bronze Star for Valor during the mortar attack.

DEPARTMENT OF THE ARMY
HEADQUARTERS, 3RD BRIGADE (SEPARATE)
1ST CAVALRY DIVISION (AIRMOBILE)
APO San Francisco 96490
21 NOVEMBER 1971
GENERAL ORDERS
NUMBER 2306
AWARD OF THE BRONZE STAR MEDAL FOR HEROISM

1. TC 439. The following AWARD is announced posthumously.

DEBICKERO, DENNIS R. 326404388 PFC (then Private) United States Army
Company A 1st Battalion (AM) 7th Cavalry
Awarded: Bronze Star Medal with "V" Device (First Oak Leaf Cluster)
Date of Action: 2 November 1971
Theater: Republic of Vietnam
Authority: By direction of the President, under the provisions of Executive
Order 11046, 24 August 1962.
Reason:

For heroism, not involving participation in aerial flight, in connection with ground operations against a hostile force in the Republic of Vietnam. Private Dennis R. Debickero distinguished himself by valorous action on 2 November 1971. With complete disregard for his own safety, he courageously took actions which were an inspiration to the other members of his unit and were instrumental in the successful completion of the mission. His display of personal bravery and devotion to duty is in keeping with the highest traditions of the military service, and reflects great credit upon himself, his unit, and the United States Army.
FOR THE COMMANDER:


OFFICIAL: HERBERT R. MOODY
LTC, IN
Chief of Staff

/Signed/
R. F. BERGH
CPT, AGC
Asst. AG


DISTRIBUTION:


---
- - The Virtual Wall, August 27, 2014