At 18, PFC Elmo Lee DeFord, son of Perry F, Deford and the late Vera Alvina Williams Deford (1914-1963) was the youngest Twin Falls County man to die in Vietnam at the time of his death. He died in one of the strange sounding Vietnam Cities. He was stationed in Pleiku, South Vietnam when he died of his wounds received in battle.
PFC DeFord attended schools in Hansen and Wendell and finished high school by attending night classes at Schofield Barracks, Hawaii. He had enlisted in the Army in 1965. He began his Vietnam tour on New Year's Eve 1965. In April 1966 he was wounded in a sapper attack and died of his wounds 11 days later.
Found among the notes of the Commanding Officer of Headquarters and HQ Company, 3rd Brgade, 25th Infantry Division, from what appeared to be a tribute to or memorial service for PFC Elmo Lee DeFord, it was learned that at 0200 hrs, 22 April, while in defense of the base camp perimeter during an enemy attack, Pfc Elmo DeFord was mortally wounded.
"An approximate squad size enemy sapper unit attacked and partially overran the positions PFC DeFord was helping to defend. One of the eneby dead was found directly in front of his bunker, so that it appears certain that he accounted for at least one Viet Cong before being hit by a grenade. He succumbed to these wounds at 0700 hrs on 2 May at the 2nd Surgical hospital at An Khe."
"PFC DeFord came from the town of Hansen, Idaho and was survived by his Pentecostal minister father, Perry E DeFord , and a brother. Elmo was active in church affairs at home, often expressing his wish to follow his father's vocation by studiying for the ministry when he left the service. He quit high school to enter the Army, but was attempting to gain a diploma through USAFI courses at Schofield Barracks."
"His infantry training was taken at Fort Polk, Louisiana and Ft. Ord, California, followed by a track mechanic's course at Ft. Knox, Kentucky. He came to the 3rd Brigade Headquarters in September of last year (1965) and was assigned to the motor pool. This only lasted until Captain Simcox found out he was a talented baritone player and drafted him for the Bronco band. From that day forward, he remained a member of SSG Yonoshiro's group, playing that horn that was half as big as he was."
"He was a good soldier, well-liked by all who knew him. His untimely death came as a shock to all of us, partly due, perhaps, to the fact that he was a member of this company known to most of you, a friend to some of you, and not simply an impersonal statistic. And so we gather to honor him today, for the sacrifice he made for his comrades and for his country. He was one of us - he was a soldier. We shall miss him and we'll cherish his memory." - - Jim K, son of CO, HHC, 3ed Brigade.
Although exact circumstances were difficult to re-construct, the two men were killed during that attack, died from metal fragment wounds and small arms fire. The two men were:
On Friday, April 22, 1966, in the United States, the same date Abbott and Deford were killed in Vietnam, an American Flyers charter flight with most of the passengers bound from Ft. Ord California to Ft. Benning's airborne training achool in Georgia, some possibly destined for Viet Nam crashed near Ardmore Oklahoma, killing 83 of the 93 passengers. The probable cause: "The incapacitation, due to a coronary insufficiency, of the pilot-in-command at a critical point during visual, circling approach being conducted under instrument flight conditions." Read the full story with list of passenger information here..
On April 22, Elmo was wounded and hospitilized, and local area papers, on Wednesday, April 27th, published notices like the one below.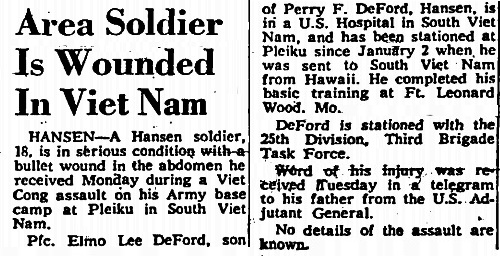 On May 2, 1966, the Army Adjutant General's Office notified the family that Elmo had succumbed to his wounds. Funeral arrangements were made for May 2, 1966. The following appeared in local area papers:
PFC DeFord was survived by his father, Perry E. DeFord, stepmother, two brothers, Wallace E. DeFord, Hansen and Damon P. Deford, Gannett, a sister, Mrs. Doris Morton, Twin Falls, and several maternal aunts and uncles. He was pre-deceased by his mother, Alvina "Vera" (Williams) DeFord (1914-1963) and his maternal grandparents, Amanda Marie (Green) and Joseph Thurber Williams, Montpelier, Idaho. Elmo is buried in Sunset Memorial Park Cemetery, Twin Falls, Twin Falls County, Idaho.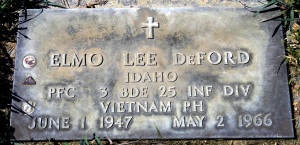 ---
A little over a year later, on May 28, 1967, it was announced in the Twin Falls Times News that a new memorial was to be dedictated on Memorial Day in the Twin Falls Park in honor of the first 4 men from Twin Falls County killed in the Vietnam War. It was noted that it was the only Idaho Vietnam Veterans Memorial as of that day. The first 4 men to be placed on the memorial were:
You can read several news articles about the authorization of the memorial and the backgrounds of the first 4 Idaho men added to their memorial.
- - - The Virtual Wall, September 6, 2014