Remembering
James Cornelius Doloughty
Staff Sergeant, Army of the United States
3RD PLT, A CO, 1ST BN, 502ND INF RGT, 101 ABN DIV

From Pittsburgh, Pennsylvania
22 September 1948 - 09 July 1969
James Cornelius Doloughty is on the Vietnam Veterans Memorial, Panel 21W Line 088.
05 Sep 2002
My father, SSG James C. Doloughty, grew up in Pittsburgh and attended Central Catholic High School. He went through basic and AIT at Fort Jackson (SC) in 1968, and attended NCOC at Fort Benning in the 71st Co., graduating from there as a staff sergeant on November 4, 1968. After that he was assigned to Fort McClellan, AL. He shipped out in late February 1969 and was with the 1st platoon of Co A, 1/502nd Inf., 101st Airborne and was moved to the 3rd platoon of that company a few months later. He was wounded during an ambush in the Tam Ky area during Operation Lamar Plain on July 8, 1969, and died the following day at the 27th Surgical Hospital in Chu Lai.
If you knew Jim, please contact me. I have been in touch with some of his friends, which has been great, but there are many others that I'm trying to locate. I would also like to hear from the families of anyone else who lost a loved one during that ambush.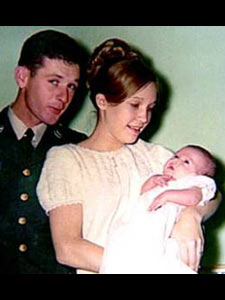 James, Barbara and Noreen Doloughty, December 1968


---
17 Oct 2006

Earlier this year I had the opportunity to visit Vietnam. My experiences there, and afterwards, and contained in my blog at http://noreenvn06.blogspot.com

Noreen Doloughty
noreen_ellen@yahoo.com



---