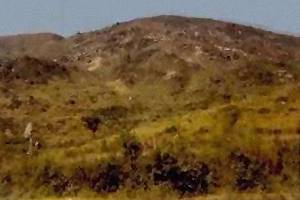 On January 25, 1970, 1st Platoon, Delta Company, 3rd Battalion, 506th Infantry Regiment, discovered a cave complex on Hill 474 Northwest of Bong Son in Binh Dinh Province. After investigating the cave and discovering signs of enemy activity, the platoon came under heavy attack resulting in the immediate wounding of a rifleman.
After rendering aid and pulling the wounded man to safety the medic advised the Lieutenant that the wounded soldier would need to be evacuated as soon as possible. A squad was dispatched to secure a landing zone located just down hill of the platoon. With the wounded man on a blanket, two men at the foot of the blanket, and Benjamin Garcia and the medic at the head of the blanket, they proceeded to try to carry the injured soldier down the trail on their knees in an effort to avoid enemy fire.
Suddenly Benjamin Garcia sat up with a start and tumbled down the hill and the cry "Medic!" came from the squad at the foot of the trail. Ordering the other two men to carry the wounded soldier back up into the rocks for cover, the medic grabbed his aid bag and crawled to the foot of the the trail only to find the squad leader with a fatal wound to the head, the radio man in shock, the radio on his back shot up, and a rifleman with a wound to his thigh. After giving aid to these men the medic again grabbed his aid bag and crawled off into the meadow in search of Benjamin Garcia.
The meadow was now on fire from smoke grenades which had been popped to mark the landing zone. When the medic found Garcia he was not breathing and had no pulse. While still under fire the medic attempted to revive him with C.P.R. but got no response. When he searched for a wound he found that Garcia had been hit in the right side of the chest, just below the arm-pit, killing him almost instantly. Only later did he realize that the bullet that struck Garcia had been intended for him since Garcia was sitting to his left and the enemy were uphill of them to their right. The bullet had to have first passed within inches of the medic before it struck Garcia.
The medic vowed never to forget the man who had given his life in an attempt to save another and who had taken the bullet intended for him. My only regret is that I never got the chance to know you, Benjamin, since that was just my fifth day in the field. But I want you to know that I have not forgotten and will not forget the sacrifice you made. Thank you for your courage and example. I trust that I have lived my life in a manner that brings honor to your name.