A Note from The Virtual Wall
Much of what Petty Officer Palmer says above is taken from press reports regarding the recovery of LT Hand's remains and subsequent burial at Dallas-Fort Worth National Cemetery. The US Naval Forces Vietnam History for April 1968 contains the following account of the loss: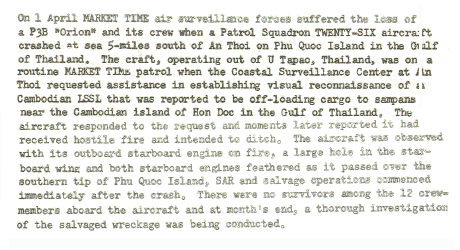 The twelve men aboard VP-26's P-3B BuNo 153445 when it went down were
LTJG Stuart M. McLellan, Cleveland, OH, pilot
LTJG Frank E. Hand, Fort Worth, TX, copilot
LTJG Brian J. Mathison, Park Ridge, IL, copilot
LTJG Michael J. Purcell, Shavertown, PA, navigator
AXC Donald E. Kulacz, Chicopee Falls, MA, aircrewman
AT1 Kenneth L. Crist, Cincinnati, OH, aircrewman
AE1 Donald F. Wood, Coloma, MI, aircrewman
AX1 Alvin G. Yoxsimer, Dola, OH, aircrewman
AME2 Donald W. Burnside, Hawley, MN, aircrewman
AO2 William S. Cutting, Lebanon, NH, aircrewman
ADJ2 Edward O. Wynder, Bridgeton, NJ, aircrewman
AX3 Delmar L. Lawrence, Thompson Falls, MT, aircrewman
Although initially classed as "Missing", the twelve men were reclassified as "Missing to Dead - Hostile" in DoD Press Release Number 333-68 issued on 12 April 1968.


---

Associated Press reports state that fragmentary remains recovered at the time were buried on 24 April 1968 in the Barrancas National Cemetery, Naval Air Station, Pensacola, Florida, where his wife wanted him buried (specifically, in Site 213, Section 32).

One current report from the Dallas, Texas, Star-Telegram web site site reads:
Military honors long-lost officer
By CHRIS VAUGHN
Star-Telegram staff writer
Posted on Tue, Nov. 13, 2007

DALLAS - The Navy chaplain, his voice rising above the flapping of dozens of U.S. flags, called it a "beautiful and bittersweet day."
A little bit of Lt. j.g. Frank E. Hand III had returned to Texas, after having spent much of the last 39 years in the water off the coast of Vietnam. Hand, three other officers and eight sailors were killed when their P-3 Orion was shot down April 1, 1968.
He received full military honors, including a "missing man" flyover by Navy F/A-18 Hornets, at Dallas-Fort Worth National Cemetery on Monday morning. His remains were identified this year after Vietnamese fishermen found them and turned them over to Defense Department officials several years ago.
"You'll hear a lot about closure today, but the family had closure about 40 years ago," said Bruce Hand, Frank's younger brother. "Today is a homecoming for a brother, a husband, a son and someone who chose to serve."
Hand, who was 26 when he was killed, graduated from Carter-Riverside High School and attended Arlington State College before joining the Navy in 1964.
The executive officer of Hand's former unit, Patrol Squadron 26 from Brunswick, Maine, attended the service to posthumously promote Hand to full lieutenant.
Copyright Star-Telegram
Chris Vaughn, 817-390-7547
cvaughn@star-telegram.com
Reproduced under 17 USC §107