29 Aug 2000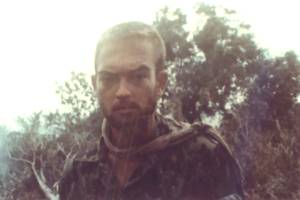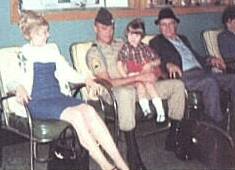 Left to right,
sister Mary Miller; in Jimmy's lap his niece, Angie (Mary's daughter);
Jimmy's grandfather Henry Altvater (now deceased); Jimmy's mother, Margaret Haugh
REMEMBERED ACROSS THE YEARS
HEADQUARTERS
1ST BRIGADE 101ST AIRBORNE DIVISION
APO San Francisco 96347

14 July 1968

GENERAL ORDERS
NUMBER 3417

AWARD OF THE SILVER STAR MEDAL
1. TC 320. The following AWARD is announced posthumously.
HAUGH, JAMES C. RA51653230 STAFF SERGEANT E6 US Army
HHC, 1st Bn, 327th Inf, 1st Bde, 101st. Abn Div, APO 96347
| | |
| --- | --- |
| Awarded: | Silver Star |
| Date action: | 5 March 1968 |
| Theater: | Republic of Vietnam |
| Reason: | For gallantry in action in the Republic of Vietnam on 5 March 1968. Staff Sergeant Haugh distinguished himself when the reconnaissance platoon (Tiger Force) of 1st Battalion (Airborne), 327th Infantry was conducting a combat operation in the vicinity of Phu Loc, Republic of Vietnam. They were moving down a well used trail, and were suddenly taken under intense small arms and automatic weapons fire. The hostile fire was so intense that it rendered the Tiger Force unable to effectively maneuver on the enemy positions. Realizing the situation, platoon sergeant Haugh informed his men that he was going forward in an attempt to eliminate an enemy machine gun position. With complete disregard for his personal safety, he dashed forward about fifty meters, roving from bush to bush while his men laid down a base of fire in an attempt to cover his maneuver. From his forward most position Staff Sergeant Haugh threw two K-26 hand grenades into the machine gun trench. Oblivious to the tremendous volume of hostile fire now directed at him, Staff Sergeant Haugh, without hesitation, leaped forward and sprayed the trench with automatic weapons fire. Through his actions the machine gun position was silenced, giving the Tiger Force the fire superiority and allowing them to completely rout the hostile force. Staff Sergeant Haugh's personal bravery and devotion to duty were in keeping with the highest traditions of the military service and reflect great credit upon himself, his unit, and the United States Army. |
| Authority: | By direction of the President under the provisions of the Act of Congress, approved 9 July 1918. |
FOR THE COMMANDER:






Chief of Staff
OFFICIAL:



Adjutant General
HEADQUARTERS
1ST BRIGADE 101ST AIRBORNE DIVISION
APO San Francisco 96347

1 November 1967

GENERAL ORDERS
NUMBER 2460

AWARD OF THE BRONZE STAR MEDAL FOR HEROISM
1. TC 320. The following AWARD is announced.
HAUGH, JAMES C. RA51653230 STAFF SERGEANT E6 US Army
HHC, 1st Bn, 327th Inf, 1st Bde, 101st. Abn Div, APO 96347
| | |
| --- | --- |
| Awarded: | Bronze Star Medal with "V" Device |
| Date action: | 27 September 1967 |
| Theater: | Republic of Vietnam |
| Reason: | For heroism in connection with military operations against a hostile force: Sergeant Haugh distinguished himself by exceptionally valorous actions on 24 September 1967 in the Republic of Viet Nam. While on a search and destroy mission, Sergeant Haugh's platoon became heavily engaged with an enemy force of undetermined size. After a short fire fight, the enemy renewed their attack with added momentum and fire power. Sergeant Haugh's platoon immediately countered the enemy attack by assaulting their positions. As the battle continued, two friendly troopers were wounded directly in the path of the enemy fire. With complete disregard for his own safety, Sergeant Haugh dashed across the bullet swept terrain to reach his comrades and pull them to safety. Upon reaching the first man he found that he was mortally wounded, but unhesitatingly continued on to the other trooper. Undaunted by the withering hail of enemy fire being directed at him, Sergeant Haugh pulled the wounded man to safety and then joined his element in completely routing the enemy positions. Sergeant Haugh's devotion to duty and personal courage were in keeping with the highest traditions of the military service and reflect great credit upon himself, his unit, and the United States Army. |
| Authority: | By direction of the President under the provisions of Executive Order 11046, 24 August 1962. |
OFFICIAL:
E. M. STRONG
MAJ, AGC
Adjutant General