Notes from The Virtual Wall
On 24 Apr 1969 a mixed US Special Forces/Montagnard force inserted into the immediate vicinity of a North Vietnamese Army headquarters located just across the Cambodian border in the Fishhook area.
The platoon was taken under heavy fire by NVA troops immediately after the insertion, leading to an all-day battle before suppressive fires finally reduced the enemy opposition to the point that the platoon (and a small supporting force separately inserted) could be extracted.
A total of 24 men had been inserted; 17 were recovered, and of those 17 ten were wounded and one was dead (1LT Gregory M. Harrigan). Two Americans and five Montagnards were not recovered; one of the seven, medic SGT Ernest C. Jamison, was known dead, while the other six were listed as Missing in Action. The remains of SGT Jamison and one of the Montagnards were recovered in 1970.
A Radio Hanoi broadcast indicated that Shriver had been killed in the fighting. However, he was carried as MIA until 10 June 1974, when the Secretary of the Army approved a Presumptive Finding of Death. As of 24 Apr 2008 his remains have not been repatriated.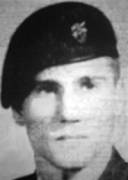 City GI Missing In Vietnam
A Lancaster City man has been reported missing in action in Vietnam.

Mrs. Janice Lynn Jamison, of 315 Laurel St., says her husband, Sgt. Ernest C. Jamison, 22, is listed as missing in action by the U.S. Department of Defense. He was reported missing last Thursday. Mrs. Jamison said he has been in Vietnam since October 5, serving as a medical adviser to the Special Forces (Green Berets).

Sgt. Jamison, who took his basic training at Fort Ord, Calif., was a student prior to entering the service.

He was graduated from McCaskey High School in 1965 and had attended both Temple University, Philadelphia, and Texas Institute of Technology, Lovett, Tex.

The Jamisons have a daughter, Ernestine, five months.

Lancaster (PA) New Era
May 1, 1969
Ernest C. Jamison
Laurel St., Lancaster, Pennsylvania
Green Beret medical specialist aided wounded soldiers
Ernie Jamison grew up with a single-minded plan to have adventures similar to those experienced by his four older half-brothers who fought in the Korean War. He left Temple University, where he was a pre-med student, to enlist in the Army in October 1968, and repeatedly volunteered for Vietnam. Jamison, a Green Beret and a medical specialist, flew 25 missions with the 5th Special Forces Group to aid wounded soldiers. The 22 year old sergeant, who was scheduled to come home in September 1969 and was looking forward to seeing his daughter for the first time, died in Cambodia on April 24, 1969. Survivors included his wife, daughter, parents and four half-brothers.
Philadelphia Daily News
October 26, 1987
Visit John Dennison's
Medics on the Wall
memorial which honors the
Army Medics and Navy Corpsmen who died in Vietnam.