06 May 2003
My Brother, Skysoldier, 173rd Airborne.
Duane was tall and thin, like a bean pole! Always laid back, never moved too fast. He liked iced tea, sometimes even carried around his own jar of instant.
Loved just hanging out on the couch and watching "stupid movies"! Loved kids, he would play on the floor for hours with my little brother, playing cars, or building things with blocks.
Mom was into experimental cooking when we were young. Duane was the "guinea pig"! He would eat anything!
He didn't have much, except for an old 55 Chevy. That car was his pride! He was so tall he had to have his seat all the way back to drive. The back of his seat was broken so he was almost lying down when he drove. You always knew it was his car, it had FU-MAN-CHU written on the back sides of it!
Duane always smiled, had a great sense of humor. Always joking around!
Never liked any boy I liked, thought they were losers (he was usually right!). We would fight a lot, guess that's normal.
I miss him so! What I wouldn't give for one more argument, then a big fat hug!
I never got the chance to tell him how much I loved him, but I do! He was my "Big Bro", best friend, and most of all, my Hero! I think of you every day. We all miss you! "Keep Flyin High Bro"!!!! I'LL LOVE YOU FOR FOREVER AND A DAY!
Miss you every Min.!
Toni
"Dreamweaver"
A POEM FOR YOU, BROTHER!
Out of the clouds I tumble
to survey the earth below.
With a snap of my billowing canopy
I glide like a bird, and slow.
The wind kisses my face
Like a friend --
Takes my hand to lead the way.
The other hand grasps St. Michael's wings
In the exhilarating game we play.
The thunder of the silence
Soothes my soul
As I drift in laughter's wake,
And I dance on the air
With the earth my goal
All for my country's sake.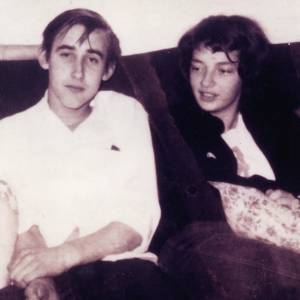 Duane and sister Toni taken just before he went in to the Army.