Notes from The Virtual Wall
On 21 January 1968, Warrant Officer William A. Kimsey of the Army's 220th Recon Aviation Company and a Marine artillery observer, Captain Charles J. Ramsay (HQ Co, HQ Bn, 3rd MarDiv), launched in an O-1D Birddog spotter aircraft (tail number 57-2930). Their job was to provide spotting for a naval gunfire mission directed against a North Vietnamese antiaircraft site within the Demilitarized Zone.
While directing the ship's gunfire, WO Kimsey radioed that his aircraft had been hit by enemy fire. No further transmissions were heard. Other aircraft in the area conducted immediate search and rescue operations, but were unable to locate either the downed aircraft or its two crewmen.
On 11 January 1974, almost a year after the US POW release, the Secretary of the Army approved a Presumptive Finding of Death for Warrant Officer Kimsey and his status was changed from MIA to Killed in Action, Body not Recovered. Charles Ramsay was carried as MIA until 20 June 1978 and was promoted to Lieutenant Colonel while in that status.
On 01 January 1998 the Vietnamese government returned two sets of human remains, and on 19 July 2001 the United States government was able to announce that the remains were those of Warrant Officer Kimsey and Captain Ramsay.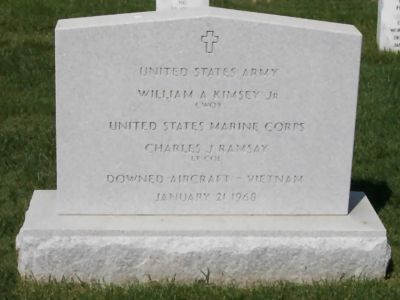 Warrant Officer Kimsey is buried in Site 6414, Section 60, Arlington National Cemetery. According to the Veterans' Administration, LtCol Charles Ramsay rests next to him.
Photo courtesy of M. R. Patterson, 23 April 2004
arlingtoncemetery.net