Information from St Cloud Times, June 21, 1992 - Julia Lorimer couldn't find a Father's Day card for her father. Nothing seemed to fit. Bill Lorimer IV, a St. Cloud native, has been dead for more than 22 years. Julia was just 23. She doesn't remember his hugs and kisses. Nor does she remember rides on his shoulders.
Growing up, Julia said a lot of people told her: 'You didn't even know him. How could you be so upset?' Julia's mother, Pat Marcus of North Oaks, admits wondering that. Of Bill's three kids, Julia was the youngest. Bill, 28, was 5, Jennifer, 29, was 6 and Julia was only 15 months old when their father was killed.
Bill planned a military career, much like his father. Colonel William Lorimer III was the Professor of Military Science and Tactics, St. John's University in Collegeville, Minnesota. Below photo of the Colonel was in the May 10, 1957 DePaul University Newspaper. Colonel Lorimer was due perform the annual Corps of Cadets inspection at DePaul. Colonel Lorimer retired from the U.S. Army in 1960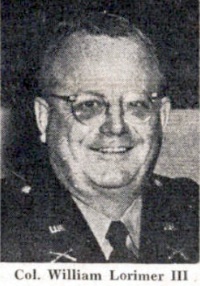 Bill joined ROTC while he, too, was at St. John's in the early '60's. He met Julia's mom, a student at St. Cloud Beauty College, in the fall of '62. The two married his senior year and after graduation began the nomadic path of a military family with US Army.
By the time Bill was sent to Vietnam in 1969, he and Pat had three kids. Bill's love for the military waned in Vietnam. Like other soldiers there, he grew disillusioned with the war. Pat saw it in the letters he wrote home.The letters also revealed a soldier who hoped to see his family again. "Hope things stay quiet today," he wrote March 9, 1970. "They sure were hectic yesterday. Give my love to everyone. Love Bill."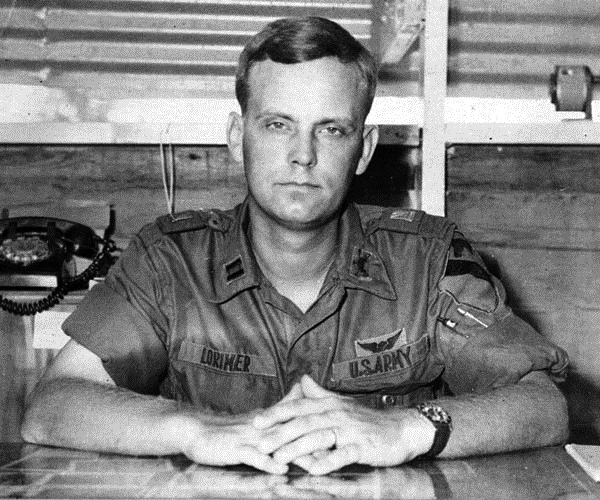 On March 10, word came that the Viet Cong were about to overrun some American troops. Bill, a 27-year-old helicopter pilot, volunteered to rescue them. He went back and forth several times. On the last trip, he got hit. Pat says a he was wearing a flak jacket, but a bullet went through a seam. Two military men brought the news to her parents' home in Wheaton where she was staying.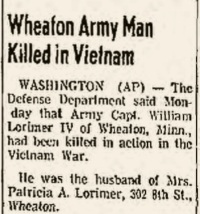 From a pilot in the flight that day: Bill Lorimer was a helicopter pilot. He was also company commander of c/229th AHB. He was a friend. He was leading a flight of seven helicopters in a combat assault on the day that he died. He was flying right seat while running this mission when the flight came under fire. I was flying left seat 3 or 4 birds behind him. An AK-47 round came up from the right rear and found it's way between the crack in the armor plating from the back of the seat and the right sliding panel, it struck Bill in his right side and proved to be fatal.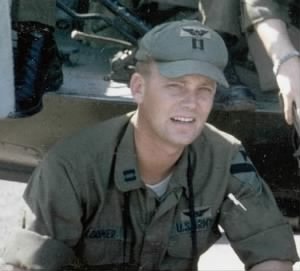 Around the time Bill was being buried in the States, his unit was holding a memorial service in Vietnam. CPT Lorimer's boots and helmet sat on a small table at the front of the assembled group of unit members who had come to pay final tribute to one of their own. A memorial service was given. After the assembled men were called to attention, a 21-gun salute by 7 riflemen was fired just before Taps were played.
On the day CPT Lorimer was killed, WO1 John Howard Pohlman was arriving in Vietnam and would be assigned to the 229th Assault Helicopter Battalion (AHB). He was killed a short forty-five days later during the early morning attack on Fire Support Base Atkinson on 15 April 1970, after the Flare Ship he was piloting was forced to land under enemy fire. As Pohlman tried to exit the aircraft to the interior of Atkinson for cover, he was struck in the head by the still rotating blades of his helicopter.
The 229th AHB lost 12 men from the time CPT Lorimer arrived in Vietnam on August 11, 1969 until his death on March 3, 1970. Another 7 men during the period 3 March when WO Pohlman began his tour, and 15 April when he was killed. The 229th AHB lost a total of 119 men (101 names here) in the Vietnam war.
That spring and summer, Pat says; was a blur. She remembers arranging to have her brother, who was serving in Vietnam, accompany Bill's body to Wheaton, where he was buried.
A friend, Robert Neis, wrote: "Bill was a childhood friend and next door neighbor. Bill and I golfed, threw darts, swam, talked about girls and ate dill pickles together. I will never forget Bill. My wife Joanne and I visited his gravesite in Wheaton, this fall. God rest his soul."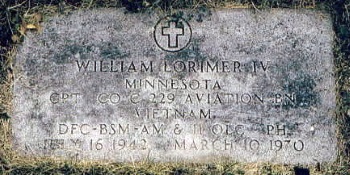 Eventually, Patricia A Lorimer remarried and had another child. Full story of Julia's involvement with Sons and Daughters in Touch on Bill's Memorial Page.
In addition to his wife and children, CPT William Lorimer was survived by his parents, Emmy (Nordquist) Lorimer (1914-2014) and COL William Lorimer III (USA Ret) (unk-unk), living in Hobart Indiana at the time, and 3 siblings, Heidel, Tom and John.
---
- - The Virtual Wall, September 17, 2014