CW2 Lukow began his tour on 10 September 1970. He was due to rotate home in the next two months.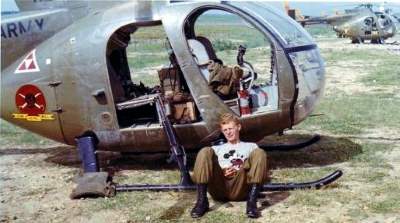 One of his friends from Vietnam noted: "Everybody liked him. He was a great guy, always ready to laugh, and one of the most talented people I met in Vietnam (he was a sketch artist). As a scout pilot for C 1/4 he volunteered to fly one of that war's most dangerous missions. When his younger brother volunteered to come to Vietnam as an admin clerk, Mike could have gone home."
He stayed to support his unit.
While in flight, OH-6A 68-17148 piloted by Chief Michael Eugene Lukow, approximately 16 kilometers S-SW OF Kien Long Airfield, took enemy small arms ground fire. "Gunner, SP4 Thomas Wayne Bickford was shot and brought a "bomb" back inside the helicopter causing it to explode in mid-air." (VHPA)
CW2 Michael Eugene Lukow was survived by his mother Doris (Minchow), father Bob Eugene Lukow (1930-2013), brothers Dennis D. (1955-1975), Robert W., and Gerald J; and sister Denise J. Lukow. His brother Dennis, who also served in Vietnam, was one of three killed when their UH-1 Huey crashed near Lake Tholocco, Fort Rucker, AL while on a night training flight. Flying with him were: CW2 Michael S. Robinson and WO Candidate Albert H. Parker.
Mike's father was an Air Force veteran of the Korean War and then flew 25 years for Frontier airlines. His father is buried in Florida National Cemetery Bushnell, Florida while CWO Mike Lukow and his brother WO Dennis Lukow are buried next to each other in Fort Logan National Cemetery, Denver, Colorado.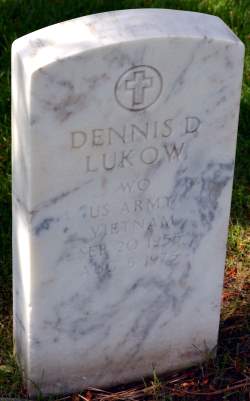 ---
- - - The Virtual Wall, February 18, 2018