In a Michigan paper, The News-Palladium 2 July 1970 on Page 17, the following was posted: Michigan Men Killed In War. WASHINGTON (AP) _ Two soldiers from Michigan were among 17 servicemen who were killed in recent action in the Southeast Asia war, the Defense Department said Wednesday. They are Army Spec. 4 Timothy C. McCarthy, son of Mr. and Mrs. James P. McCarthy of Detroit; and Army Pfc. Donald A. Rowley, son of Mr. and Mrs. Carroll L. Rowley A, Dearborn.
According to a 2013 posting to the Vietnam Helicopters Pilots Association, this was a Combat incident. While at their base Camp, this helicopter was on the ground. The helicopter took 1 hit from: Explosive Weapon; Non-Artillery launched, or static weapon containing explosive charges: B-40 Rocket. The helicopter was hit in the Main Rotor Blade System, wounding three and killing SP4 Timothy Clay McCarthy.
At the present time, it is unknown which cemetery in Detroit SP4 McCarthy is buried. At the time of his death, his parents were living on Mettetal Street, Detroit which is on the southwest side of the city.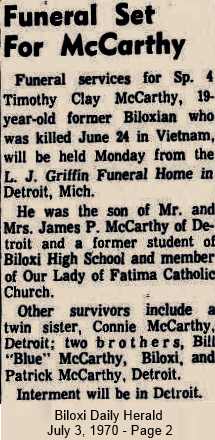 SP4 TIMOTHY CLAY McCARTHY'S OBITUARY