Richard Wayne McGee
Corporal
CO A, 501ST AVN BN, 12TH AVN GRP, 1 AVN BDE
Army of the United States
22 May 1947 - 01 July 1966
Gary, Indiana
Panel 08E Line 116
The database page for Richard Wayne McGee
18 Jun 2005

Every family has at least one hero - one bright and shining star. My brother Richard was ours. He was tall, kind, handsome, funny and - he was my best friend. I'll miss him forever.

From his sister,
Linda K. Green
lindakgreen@yahoo.com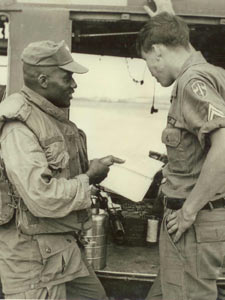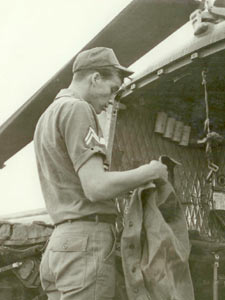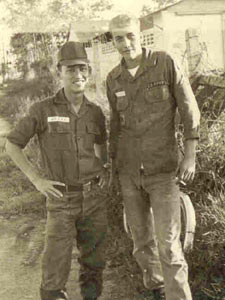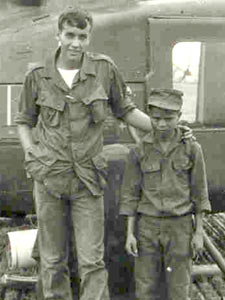 Left - Richard and an ARVN soldier
Right - Richard and an ARVN soldier half his age
A Note from The Virtual Wall
Corporal McGee was flying as a door gunner aboard UH-1B tail number 64-13997 when he was hit by small arms fire. The severity of his injury led to almost immediate death.
"A" Company, 501st Avn Bn, was formed in Vietnam on 14 Dec 1964 from the assets of the 3rd Aviation Company and was disestablished on 01 Sep 1966. Its assets were used to form the 71st Assault Helicopter Company, whose colors were transferred from Fort Clayon, Panama Canal Zone. The 71st AHC was activated on 02 Sep 1966.
Mrs. Green has written a memorial to her brother which can be found in the 71st AHC's May 2005 newsletter. A part of that memorial comes from Denis Arndt (WO 65-66) who remembers the day McGee died:
"I was the Aircraft Commander on the Firebird aircraft on which Richard McGee was killed. Richard was shot in the side and the bullet severed his aorta. The thing I will never forget is that when he was hit, he had the presence of mind to lay his M-60 on the floor to secure it as he died. Richard Wayne McGee was my brother too."
---
With all respect
Jim Schueckler, former CW2, US Army
Ken Davis, Commander, United States Navy (Ret)
Memorial first published on 25 Aug 2005
Last updated 08/10/2009