"My brother Roger McInerny was awarded the bronze and the silver star. It's not noted on the The Virtual Wall but here is the newspaper clip that ran when he was awarded. I've attached an image of the newspaper clipping."
--- Vivian McInerny, September 9, 2012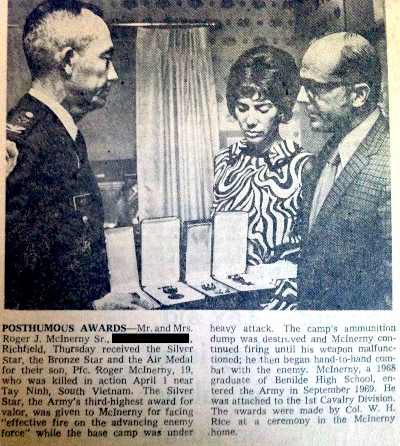 ---
During the period immediately prior to the Cambodian incursion, United States and Army of the Republic of Vietnam (ARVN) units conducted extensive operations along the South Viet Nam/Cambodian border. During March and April of 1970 the 2nd Battalion, 8th Cavalry Regiment of the 1st Cavalry Division (Airmobile) opened and closed seven fire bases to support these operations.
Fire Support Base Illingworth, located on Route LTL-20 about 35 kilometers northwest of Tay Ninh City, opened on 17 March, and was assaulted by a battalion of the 272nd NVA Regiment in the early morning hours of 01 April 1970. The Base was closed on 04 April by the 5th Battalion, 7th Cavalry, as the focus of 8th Cavalary Regiment operations shifted.
While the assault on FSB Illingworth cost the North Vietnamese nearly two hundred dead, the Americans paid a high price too. US losses were 25 known dead and 54 wounded in action.
The names of the United States soldiers killed in action and full details of the attack can be found here.
---
Article heading in Friday, November 11, 1988 issue of the Oregonian read:
MEMORIES OF AN INNOCENT TIME SOLDIER BOY
HIS FAMILY'S LIFE CHANGED FOREVER ON THE SUNNY
SPRING DAY THEY LEARNED HE DIED
"Rog was my big brother. I cheered his Pony League pitches. I rode shotgun in his Chevy. I swiped his skates to glide across a frozen Wilson Pond. And I cried 'til I felt my soul was going to turn inside out the day we learned he would not be coming home from Vietnam.
Last week I met a man who is the same age my brother would be, should be, and I listened in stunned silence as he bragged about the fact that he had not served in the armed forces. No one with any education, any money, any brains at all, he said, went to Vietnam.
I was horrified.
His observation was not new to me. People had been describing Vietnam as a working class war for many years. But they used to say that with compassion in their voices. They used to say it with a certain sense of sadness about the pegholes society puts us in. But this man's attitude was new to me. This was the first time I had heard my brother, my family and everyone like us, dismissed as chumps and suckers; dumb enough to die.
Rog was killed April 1, 1970. The pain of that date. My brother was no hero, but neither was he a fool. He was a sweet suburban boy, an altar boy, a paper boy -- a boy -- all of 19 years old who held onto traditional beliefs of honor and duty to his country a little longer than was fashionable. Certainly, too long.
Rog was not drafted. He joined the Army. He joined not with rugged Rambo illusions, but with the gentle opinion that it was the right thing to do. Classes at the community college weren't working out. It was tough studying and pulling railroad ties in the summer to pay for schooling, especially since he wasn't even sure what it was he wanted to learn. A couple years in the service would give him time to find a focus. Besides, there'd be the GI Bill at the end of it all to pay for his education, just as it had for his father and for his father's brothers. I don't think it ever occurred to Rog -- or anyone else in the family -- that he might not get a chance to use that bill." Read the rest of the story here.
---
In the Oregonian newspaper, a daily newspaper in Portland, Oregon, on November 10, 2003 and again on Memorial Day, May 22, 2008, Vivian McInerny published the story of her brother - "A SEARCH FOR PEACE".
"The phone rang one Saturday morning. My daughter was watching cartoons, so I took the cordless into the hall. A man introduced himself. I expected him to launch into a rote sales pitch for a new long-distance service or credit card company, but the voice on the other end paused, as though awaiting recognition.
"Denny McCarty," he repeated.
The name still meant nothing to me.
"I knew your brother," he said.
They were bunkmates. They trained together. They went to Vietnam together.
They came home separately.
Unable to think of any useful words, I nodded, and in that stretched moment of silence between us became keenly aware of the colored shadows of cartoons casting random patterns across the bare, white walls.
My brother Roger James McInerny was killed in Vietnam on April 1, 1970. He was 19, the oldest of six kids in a lively, noisy Irish Catholic family in Minneapolis. That was the day when things once familiar felt strange, when previously important things became trivial, when the sum total of everything I knew about the world equaled absolutely nothing at all. I was 13."
Read full story here or here.
---
Lifetime - Rambling thoughts of everyday life and experiences during the journey of a lifetime. Remembering Roger James McInerny, Jr. by Paul D. McInerny, April 2010.
"To paraphrase President Roosevelt: April 1st ... a day that will live in infamy with Roger and Lue McInerny. On April 1st, 1970, Roger McInerny, Jr. was serving with the 1st Cavalry Division in Vietnam. He would sacrifice his life that day, for ideals and beliefs that were near and dear to him."
"As I sat at the kitchen table thinking of Roger, I was enveloped with a wave of emotion. It started as a chill of sorts; goose bumps starting at my feet and quickly moving upward toward the top of my scalp. It was a feeling of overwhelming sadness and reflection for a brother long gone in one of thousands of wars of past history. As tears slipped from my eyes and onto my cheeks, I spoke to Rog and talked of the passing of time and his death. I wished he could have met my children and grandchildren. Then, a stark realization of a thought that had never crossed my mind; I wished I could have met his children and grandchildren."
Read the rest of the story here.
---
A 2012 article by Paul, Roger's brother, also a veteran: "August 17th, 1950. Roger James McInerny, Jr. was brought into this world at St. Mary's Hospital, Minneapolis, MN. To get a glimpse of what our family, especially Roger, was all about, I would encourage you to read past articles written by a most gifted and articulate journalist, Vivian McInerny. She has written a few articles detailing our wonderful life growing up in Richfield, MN."
"From my perspective, I remember Roger as the good and obedient son. The son who did well academically and religiously. He was an alter boy and a choir boy. He had a paper route back in the time when the paperboy delivered the newspaper directly to your home and placed it inside the screen door to keep it from the elements of Minnesota's rain or winter. When the paperboy took a few nights out of the month to go door-to-door to collect the subscription money from the customers..." Read the rest of the story here.
The story ends with: "I want to wonder, too, what Roger would have looked like at age 62. I wonder about his kids and grandkids. I wonder, as I quite often do - why Roger?"
"But most of all, I just want to wish Roger Jr. a most happy birthday and to let him know we all remember him! "
"Happy Birthday, Roger Jr."
---
Roger James McInerny is buried in Fort Snelling National Cemetery, Minneapolis, Minnesota.
Per an article in the Minneapolis Star Tribune, "The McInernys will be at Fort Snelling on Memorial Day, for the services. They always are. And they will put a notice in the obituary pages that day. They always do that, too, placing a smiling picture of Roger J. McInerny Jr., forever 19:"
"'Killed in Vietnam on April 1 1970,' it always says. 'Remembered every day by parents, brothers and sisters.'"
Roger, the oldest of the McInerny children, was survived by Roger & Luella McInerny (parents), Paul Douglas; Genevieve Susan; Vivian Rita; Maurice Peter; and Joseph Michael.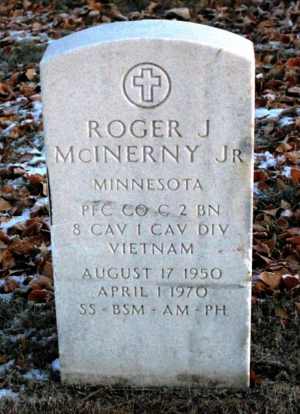 ---
Orders for Silver Star