In addition to the medals documented above, Charlie was awarded two Purple Hearts not automatically represented above but looks like the one below as well as receiving the Badges shown below the Purple Heart with First Oak Leaf Cluster:
| | | |
| --- | --- | --- |
| Expert | Sharpshooter | Marksman |
---
Son of Doris and Lloyd Meakins, Charles Meakins grew up in Austin Minnesota, along with his brother Roger, and two sisters, Donna and Coleen. Lloyd Meakins worked in the defense industry in Portland, Oregon, during World War II for about three (3) years. He was a pipe fitter working on new ships and Doris was a welder, also working on the new ships.
After the war, the Meakins, moved back to Minnesota and purchased land outside Austin. Lloyd built the building, and opened a restaurant named "The Village". They used to give away good luck charms to their customers.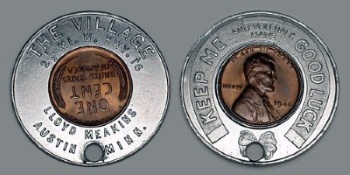 Roger recalls that when he was very young, his father went to Newfoundland for a year and he still has a pair of leather/wool mittens that he brought back. Lloyd, during this time his children were growing up, ran for the County Clerk but did not win.
Upon the family's return, the children attended Columbus Grade School, and St. Augustine (Pacelli) High School where they were educated by Rochester Franciscans. Charles graduated from Pacelli High School in 1968 and went on to college at Orange Coast College, Costa Mesa California for a year. He entered the Army in September-October 1969. The family recalls that the photo below was taken during his home leave between basic and Vietnam deployment and the child is believed to be one of the many nieces and nephews in the family.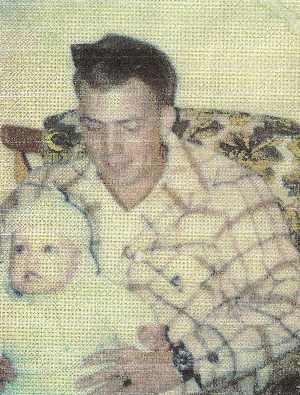 After his basic training and Advanced Individual Training at Forts Bragg, NC and McClellan, Alabama, Charlie left for Vietnam where he began his tour there on March 12, 1970. It is very possible that Charles completed his in-country processing (usually 7 to 10 days) and joined C Company on the 29th of March. That day was when a significant number of replacements were sent to FSB Illingworth to replentish the strength of Company C, 2/8th Cavalry.
Company C had been in enemy contact since their arrival in Tay Ninh Province in early February 1970, and their strength was very low due to the many enemy contacts during that period. The company had just been pulled out of the field after being 'rescued' from a bunker complex at dark after an all day battle with the NVA on the 26th of March named "The Anonymous Battle" by the 11th Armored Cavalry Regiment. The company had almost 70% losses by Illingworth.
In any case, PFC Meakins did not have long to acclimate himself to his new unit and combat conditions - he was awarded a Bronze Star for his Valor on 1 April 1970 during the early morning attack on Fire Support Base Illingworth. He was also posthumously awarded a 2nd Bronze Star for Meritorious Service for his 5 1/2 months of Vietnam service..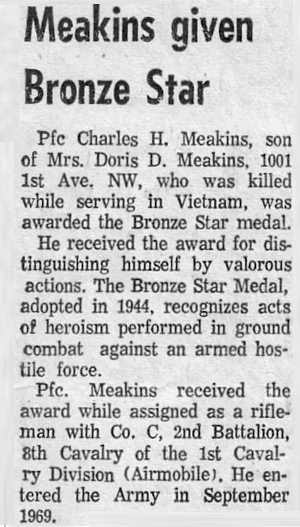 During the period immediately prior to the Cambodian incursion, United States and Army of the Republic of Vietnam (ARVN) units conducted extensive operations along the South Viet Nam/Cambodian border. During March and April of 1970 the 2nd Battalion, 8th Cavalry Regiment of the 1st Cavalry Division (Airmobile) opened and closed seven fire bases to support these operations.
Fire Support Base Illingworth, located on Route LTL-20 about 35 kilometers northwest of Tay Ninh City, opened on 17 March, and was assaulted by a battalion of the 272nd NVA Regiment in the early morning hours of 01 April 1970. The Base was closed on 04 April by the 5th Battalion, 7th Cavalry, as the focus of US operations shifted.
While the assault on FSB Illingworth cost the North Vietnamese nearly two hundred dead, the Americans paid a high price too. US losses were 25 known dead and 54 wounded in action. The soldiers from Charles' unit, C Company, 2nd Battalion, 8th Cavalry killed in action were:
SP4 Meakins was awarded the Bronze Star Medal with "V" Device for his efforts during the early morning attack.
His company was moved from Illingworth to Phouc Vinh, which was the headquarters of the 1st Cavalry Division's Division Artillery (DivArty) to assist in base defense duties and re-outfit the unit again. For the next 6 weeks, the Company ran platoon and squad size patrols around the Phouc Vinh area. On the 22nd of May, the company combat assaulted into Cambodia. They worked near Fire Support Base Gonder to the end of June 1970 in search of enemy caches.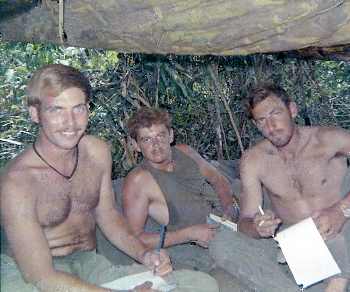 Charles was awarded an Army Commendation Medal for Valor for his efforts on the 12th to 14th of June 1970 in Cambodia while on patrol and working on clearing enemy weapons and supplies caches.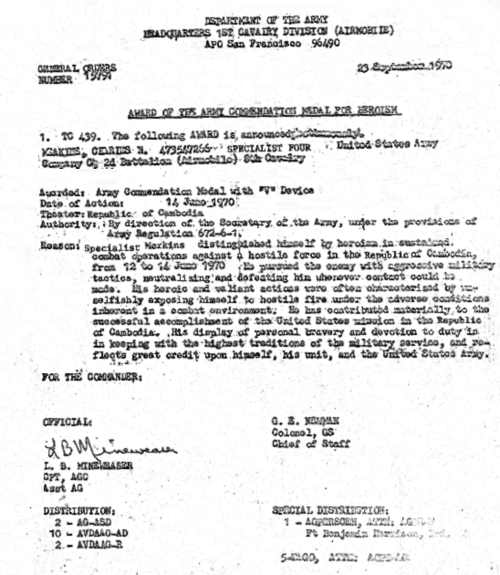 Upon completion of Cambodian operations around Fire Support Base (FSB) Gonder, the 2nd Battalion 8th Cavalry and it's companies worked out of various bases, to include FSB Eunice, FSB Union, Vo Dat, and FSB Powder Ridge. It was during a patrol out of Powder Ridge that Charlie was killed.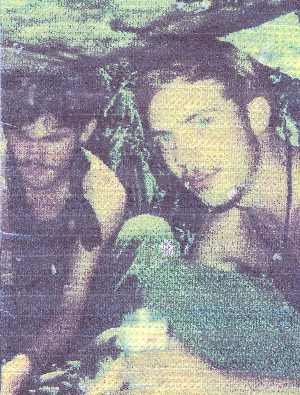 On August 25, 1970, a Claymore mine was accidently detonated by a South Vietnamese Kit Carson Scout while Sgt John Joseph Kligar and SP4 Charles Henry Meakins were standing nearby the mine. The family was notified and the local area newspapers announced his death and funeral plans.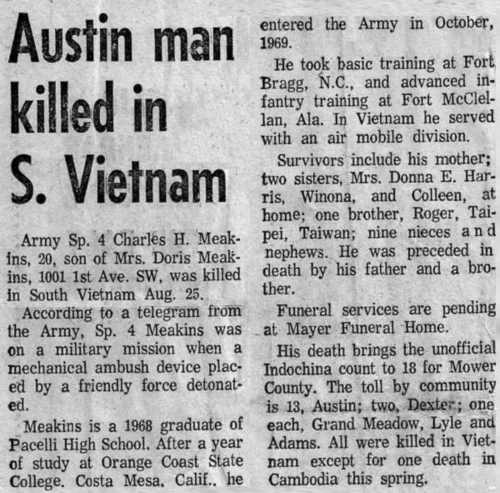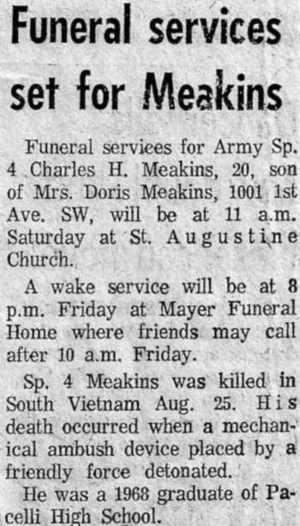 At the time of Charlie's death he was survived by his mother, Doris D (1915-1991), sisters Donna Elaine (Meakins) Harris (1937-2004), and Colleen Weimer, and brother Roger L. SP4 Meakins was predeceased by his father, Lloyd George Meakins (1912-1964) at the age of 51 and brother, Rodney George (1946).
Charlie is buried along with his parents in Calvary Cemetery (also known as: Saint Augustines Catholic Cemetery), Austin, Mower County Minnesota.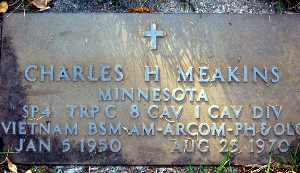 All of his medals and badges are shown in the family shadow box.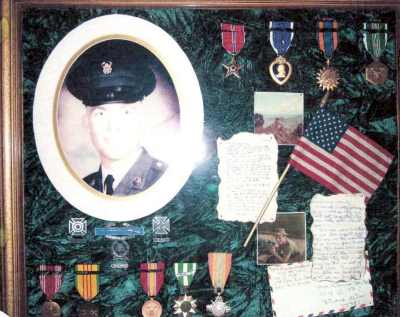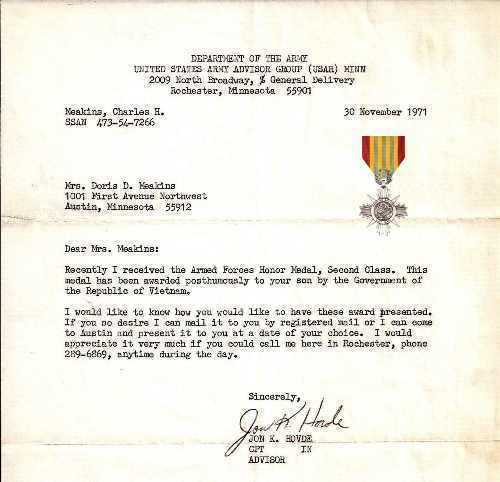 ---
- - The Virtual Wall, September 11, 2014